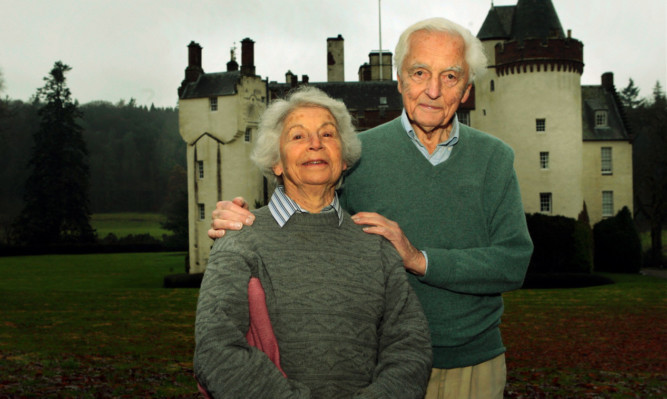 Lord and Lady Airlie's decision to downsize has marked the end of an era for a historic Angus castle.
Cortachy Castle has welcomed many distinguished guests such as the Queen, the Duke of Edinburgh, Prince Charles, the Queen Mother and Queen Mary over the years.
The castle, near Kirriemuir, has been held by the family for around 500 years but the couple have now moved to a new home around a mile away.
Lord Airlie has now handed over the management of the estate to his son Lord Ogilvy and the future of the castle is under "active consideration".
"The castle is very large and I think it is now too large, given I am 88 and my wife is 82," Lord Airlie told The Courier.
"I'm lucky that I am still very fit but there will come a time when such a big house will become a serious problem and I think what we felt was we ought to make a move before it becomes quite difficult and we become too old."
Lord and Lady Airlie married in 1952 in St Margaret's Church, Westminster, in the presence of the late Queen Elizabeth the Queen Mother and Princess Margaret.
Lord Airlie added: "This is a sad moment for me and I feel quite emotional about it but one has to be realistic. It is the right thing to do."
He said the castle also costs a lot to heat and maintenance is a big factor, with repair work happening every year.
He said: "I think that the future of these large houses is really quite a worry.
"I've always regarded Cortachy as an important part of our national heritage and I feel that I'm a trustee of it for future generations."
Cortachy Castle and the surrounding estate was purchased by Lord Ogilvy from a kinsman in 1625.
His son became the Earl of Airlie in 1639 and took up residence at Cortachy following the sacking and burning of Airlie Castle in 1642 by the Earl of Argyll.
The south wing of the castle dates from the 15th Century and further additions were made in 1820 and 1873.
The couple who have six children, 14 grandchildren and five great-grandchildren said the castle holds so many treasured memories.
Lady Airlie said: "It isn't a spooky Scottish castle. It was a very happy house.
"There was a really happy atmosphere and it was a lovely home. I shall treasure the games we played with the children growing up.
"It holds so many happy memories and I shall miss the river South Esk running by.
"We have been there 55 years and all our children and grandchildren grew up there but it is now too big a house for us to live in."
Lord Airlie also spoke of the 81 trees dating back to 1872, which were planted in the castle grounds by each generation, together with distinguished guests such as the Queen and Prince Philip, rather like a visitors book.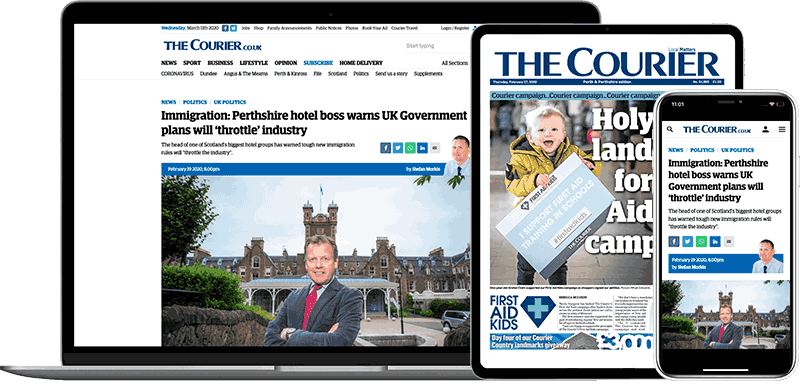 Help support quality local journalism … become a digital subscriber to The Courier
For as little as £5.99 a month you can access all of our content, including Premium articles.
Subscribe