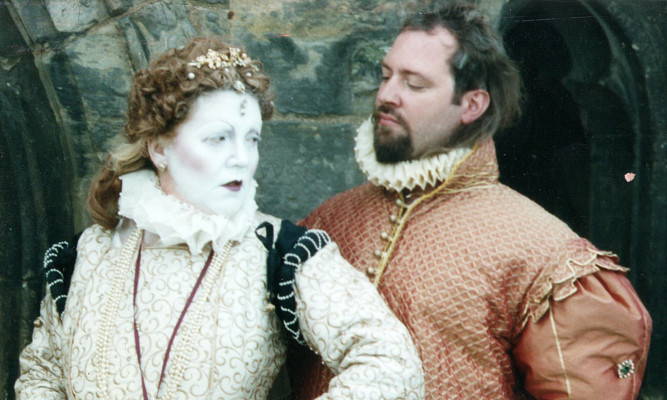 A couple with a passion for re-enacting the life of Mary Queen of Scots will tie the knot in an Angus castle where the ill-fated monarch once stayed.
Gareth Williams, who studied at St Andrews University, and his bride-to-be Lesley Smith will get married on Saturday at Glamis Castle, near Forfar, where Mary stayed on August 22 1562.
Mr Williams, who is a curator at the British Museum and an international authority on Vikings, also spends some of his time appearing in costume as Mary's third husband the Earl of Bothwell.
Miss Smith, a specialist in Tudor medicine, is the curator of Tutbury Castle in Staffordshire, where Mary was held prisoner.
She is also well known as guest historian on a number of TV programmes and regularly appears to audiences across the UK as a range of historical characters, including Mary Queen of Scots.
Mary was executed in 1587 and Bothwell died insane in a Danish prison in 1578 but plans for the present-day marriage are for a much happier ending.
"Glamis is absolutely stunning and so romantic," Miss Smith said.
"Its beauty and grandeur were so great that King James V took it over for a while and his daughter-in-law Mary Queen of Scots dined at the castle, with the menu remaining in the archives.
"No wonder we were delighted to have the opportunity to be married in the red silk and painting-lined chapel. How romantic can a Christmas wedding be?
"The fires are being lit in the dining room for the wedding breakfast and a piper in attendance will give the ultimate atmosphere.
"I have also had a nudge that there are Christmas trees dressed ready for the wedding.
"The link with Her Majesty the Queen Mother and the royal family makes the day extra special."
The couple have been frequently asked if they intend to marry in 16th Century costume and the answer is a definitive "no".
Mr Williams has made numerous appearances on TV and radio and recently featured prominently in the cinema release Vikings Live as he curated the successful Viking exhibition at the British Museum.
As well as appearing in costume as the Earl of Bothwell, Mr Williams also regularly takes on the role of Charles II, who was crowned king in Scotland 10 years before he regained the English throne after years in exile.
Mr Williams' links with Scotland are extensive as he studied at St Andrews and wrote his PhD on Viking Scotland.
His passion for sharing history with anyone and everyone is one of the many things he shares with Miss Smith, who is also a fellow of the Society of Antiquaries of Scotland and is a passionate advocate of Scottish history.