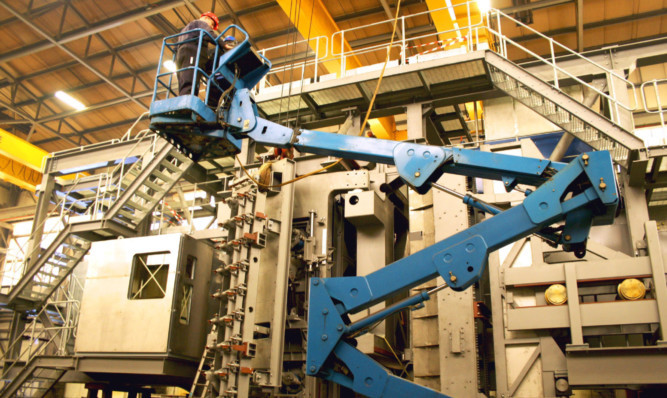 A long established name in Angus engineering has been saved, with the prospect of all of the workers in the former company finding new jobs.
The coke oven machinery division of John M Henderson of Arbroath has been taken over by Otto Simon Holdings of Cheshire.
Henderson's has a history stretching back 150 years, and about 12 of its employees will move to new premises in Forfar, where they will operate a sales and marketing, design engineering, procurement and installation service for their specialist product.
The manufacture of their coke oven machinery will be sub-contracted to companies in the Angus area giving a significant boost to the local economy.
Gary McCombie, managing director of the new company John M Henderson Machines, said the vast majority of the remaining 77 workers at the former company have secured new jobs in the oil and gas industry, including the 15 apprentices.
He said: "This is fantastic news. The name of the company which began in 1866 has been saved and it is a brand name that is respected all over the world.
"A group of key employees will be moving to the new company which will be sub-contracting its manufacturing work to local suppliers which never happened before. This will be a real boost to the local economy and will have a positive impact on jobs.
"Most of the other employees who worked at Arbroath in oil and gas sub-contracting jobs have been able to get new posts in that industry and prospects are good for the others to work in that industry.
"There was obvious concern about the future of the company when it went into administration, but I would say this is a great result."
John M Henderson went into administration in October and shocked workers at the Kirkton Industrial Estate factory were told they were being made redundant.
Joint administrators Blair Nimmo and Geoff Jacobs of KPMG embarked on the task of finding a buyer for the business as a going concern or selling off its assets to recoup any cash left within the business.
Yesterday Otto Simon Holdings of Cheadle announced an asset purchase agreement through KPMG to acquire the John M Henderson coke oven machinery technology and expertise.
The company's expertise, perfected over many years of innovation, is regarded as the world's leading coke oven machinery technology with more than 200 successful projects worldwide.
The John M Henderson brand will be retained together with a core team of machine experts and continue its long established presence in the coke making industry.
Otto Simon Limited, which also has a long history, is a leading consultancy and project delivery organisation with expertise in the coke and steel sectors.
Steve Haywood, chairman of Otto Simon Holdings, said: "I am extremely pleased that we have been able to acquire the John M Henderson technology and key staff."
Blair Nimmo, head of restructuring for KPMG, said: "I am delighted that we have managed to sell a key part of the business which has not only generated employment in the Angus region but also helps maximise opportunities for businesses throughout the United Kingdom."