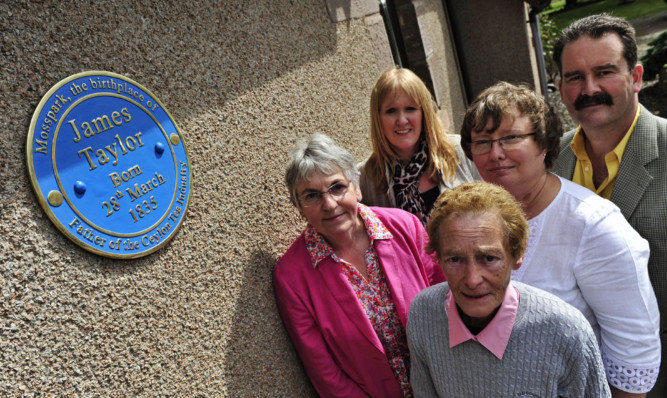 The life of an adventurous Scot who saved another country's economy in the 19th Century is being celebrated at an inaugural festival in his name.
Mearns man James Taylor brought commercial tea production to Sri Lanka, then Ceylon, in the mid-1800s.
Despite being known as the "father of tea" in that country, his contribution to global drinking habits has been merely a footnote in British history.
Hoping to rectify this, organisers of the three-day Scotland's Tea Festival has welcomed an array of guests. These included East India Company "tea master" Lalith Lenadora, New Zealand professor of Scottish and Irish history Angela McCarthy from Otago University, Japanese tea essayist Takeshi Isibushi and one of Taylor's descendants, Fife woman Frances Humphreys.
Guests at the opening ceremony saw a plaque unveiled at Taylor's home of Mossbank outside Auchenblae.
Ms Humphreys had until recently kept a silver tea set given to Taylor by an appreciative Planters' Association of Ceylon in 1890. Mrs Humphreys, great granddaughter of his sister Margaret, said: "The tea set has been in my family since Margaret.
"It had been in the attic along with a journal and I thought I had to do something with it, so I offered it to the National Museum Scotland.
"They were just about to have an exhibition about pioneering Scots and they used that as one of their central exhibits."
Prof McCarthy said Taylor may have had many reasons for leaving the Mearns for the other side of the world and that he has the peculiar honour of featuring as an extra in the Barbara Cartland novel Moon over Eden.
She said: "He certainly had family connections in the coffee economy there.
"Apparently he had a turbulent relationship with his stepmother and also his letters reveal he may have been trying to avoid a possible planned marriage."
Today, Professor McCarthy gives a talk on Taylor's life at the Auchenblae Hall from 10am and historian Sir Tom Devine will discuss "why Scots did so well in the Eastern Empire" at Laurencekirk Church of Scotland from noon to 12.30pm.
Visit www.scotlandteasfest.co.ukfor more information or call 01561 376 896 or 377501.