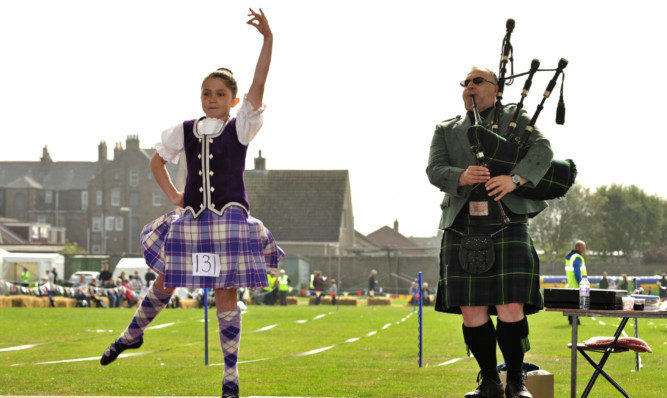 The Auld Alliance strengthened a new venture as Montrose staged the town's first junior Highland games.
Union Park welcomed youngsters from schools in and around Montrose to compete in a range of events, as well as a visiting international contingent from the burgh's twin town of Luzarches in North-East France.
This year marks the 20th anniversary of the twinning arrangement and Luzarches mayor Damian Delrue was honoured with the role of chieftain.
Following the demise of Montrose Highland Games, the town Rotary Club linked with the games committee to develop the idea of an event focused on young people, and yesterday's programme included traditional events such as the egg and spoon and sack race, as well as the challenge of tossing a cardboard caber.
There was a good turnout of Highland dancers and, with a range of stalls and other attractions for visitors to enjoy, Rotary president Hamish Watt declared the inaugural games a hit.
"The weather for anything like this is a key factor and it has been kind to us, so we're delighted with the turnout for the first event," he said.
"From speaking to people around the games field they seem to have enjoyed themselves, so we're already thinking about next year."
Montrose primary children were joined by youngsters from Marykirk and St Cyrus in the variety of competitions, and Mr Watt also praised Montrose emergency services group for the additional activities they put on during the afternoon.
Ellon and District RBL Pipe Band opened proceedings, which saw the crowning of the Montrose Rose Queen, with Montrose Town Band also performing throughout the games.
Highland games circuit stalwart Jim Brown compered the day's proceedings and Rotarian Colin Den-McKay, who led the organisation of the event, said it could become a firm fixture on the town summer calendar.
"This first one was always going to be the prototype and we have learned a lot of good lessons which will help us plan for next year," he added.
"All the primary schools in Montrose supported the games, as well as Marykirk and St Cyrus, and we hope to find ways of getting even more youngsters involved next year.
"It's great for us that everyone seemed to have a grin on their face, and hopefully we can make things even bigger and better next year."