A Tayside octogenarian proved he was the "real thing" on a marathon coastal run, fuelled by his favourite tipple.
Mike Wood, who turns 81 later this year, guzzled cola as he ran from the Dundee branch of the British Legion in Douglas to the Arbroath branch.
Mr Wood, who served 17 years in the Royal Navy, set off at 9am and completed the 16-mile run just after 2pm.
He told The Courier: "I ran up until I was 27 then I had a bit of a break until I took it up again at the age of 50.
"I started with cross-country and gradually moved up to marathons, but I'm more of a soft shuffling jogger these days.
"It was really difficult once I got to the half-way mark, but I just had to keep pushing myself forward and keep going.
"I was drinking Coke along the route I've tried various things over the years to keep me hydrated but I feel Coke works best."
Mr Wood, who is a member of the City of Dundee branch, decided to undertake the coastal run to raise money for the Dundee branch, and is hoping to have raised a healthy three-figure sum.
He was accompanied on his run by his granddaughter Lauren, 23, and Dundee branch member John Lowson, 29, who is a former member of The Black Watch.
Lauren, who lives in South Africa, is currently on a gap year from her studies and travelled to Scotland especially to run alongside her grandfather.
She said: "I'm very proud of him. He's been amazing. He just didn't give up and I'm really pleased with the time.
"It got tough after half way, but he was determined to keep going and finish."
Mr Lowson was responsible for planning the route and cycled alongside them with support in the shape of food, water and cola.
"I mapped out three routes, but we went via the cycle path, which was safer for everyone involved," he said.
"I think Mike did brilliantly, and it's great to have been able to help raise funds for our branch."
Alfred Gibson, president of the City of Dundee Branch, said: "I think he has done exceptionally well and the contribution will be vital for our branch.
"I'm not sure of the figure that Mike is going to raise, but hopefully it will do wonders for the branch and the ex-service community in the Dundee and Angus area."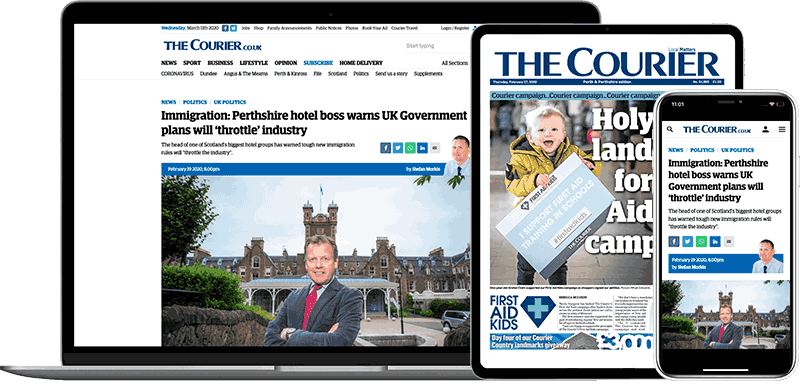 Help support quality local journalism … become a digital subscriber to The Courier
For as little as £5.99 a month you can access all of our content, including Premium articles.
Subscribe