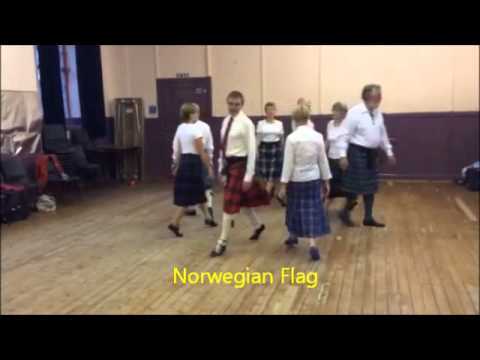 A Scottish country dance instructor has created a routine based on the story of the famous Norwegian sea dog, Bamse.
The St Bernard became a mascot of the Norwegian Navy during the Second World War because he was known for his bravery on board the minesweeper KNM Thorodd.
He endeared himself to people in Montrose and Dundee when his vessel was stationed in Scotland and would regularly be seen taking part in football matches and rounding up sailors from local pubs at the end of the day.
Hundreds of people lined the streets of Montrose where there is a statue in his honour for a celebration to mark 70 years since his death last year.
https://youtube.com/watch?v=5m3-CO_RArc%3Frel%3D0
One of the people in the crowd was St Cyrus woman Elizabeth Neill, who said: "At the event, I realised there was a book, there was a song but there wasn't a dance. I put together a dance and tried it out with dancers to discover any parts that didn't work."
The finished result was filmed and put online in the hope other groups will try it out.
"It's the first time I've put a dance on YouTube. I wanted to put it out there and say, 'here's a new dance for anyone who wants to try it'," added Mrs Neill, who appears in the video as a dancer with her husband, Dave.
The routine has been praised by Dr Andrew Orr, co-author of the book Sea Dog Bamse. He said: "This is a considerable achievement, and is much appreciated by everyone who loves Bamse."