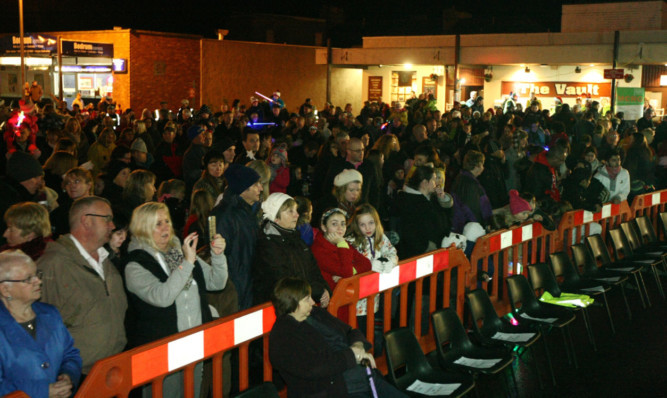 Santa is coming to Monifieth after the popular Christmas lights event was saved at the 11th hour following the collapse of the community council.
For years the festivities have been organised by Monifieth Community Council but this year's event was under threat when the sparsely populated group folded suddenly.
Monifieth and District Rotary Club have stepped in to make sure no one is left disappointed.
Club president Stewart Butchart said: "It has been running for at least a decade and quite a lot of people do turn out for it. The square is usually full.
"It is quite short notice that we've been asked to do it, but it will be just as good as years gone by, just with some slight differences."
It is hoped to put on a full schedule of entertainment, including carol singing, Highland dancers, free festive drinks, and, of course, an appearance from Santa.
The switch-on will be held on Thursday December 4, from 6.30pm.
Mr Butchart added: "I think it is important to give something back to the community and I hope people will come down and support it on the night.
"One of our members, Jim Culloch, has taken on most of the work.
"Hopefully the community council will be up and running and take it back next year."
Monifieth Community Council failed to attract enough volunteers to form this year after some members stepped down or moved away.
Former chairman John Whellams, who is continuing to edit the community magazine Moni Matters from his new Somerset home, said: "We moved quite suddenly.
"We had been planning to move for a few years but the house sold quicker than we expected and we left Monifieth at the end of September.
"I did hear the community council wasn't able to form because it didn't get enough people putting their names forward."
Some members of the old community council have pledged to continue but need at least seven volunteers and are now launching a 'Your community needs you' campaign to recruit new members.
The voluntary-run group represent the community in a number of ways such as giving opinions on planning matters and organising events.
A spokesman for Angus Council said: "As yet, we have not received contact from anyone in Monifieth with regard to establishing a community council.
"Anyone wishing to do so would need to raise a request (or petition) signed by 20 people asking for arrangements to be made to establish a community council by way of holding an election."