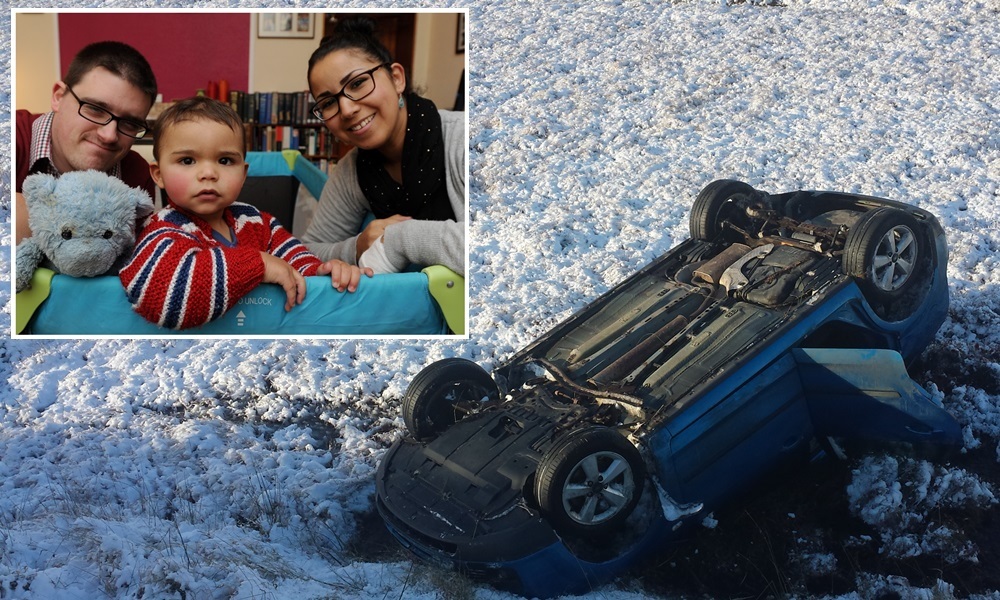 An Angus mum has told how she feared her family would die after her car plunged into ice cold water.
Fidaa Karkori was left clutching her 18-month-old son Zakaryah after being trapped in their overturned Ford Focus.
The family now hopes to thank the couple that rescued them from the water following the accident near Royal Deeside.
Fidaa said: "The water was all around us. I could see the brown water up the windscreen and it was coming in at the front.
"It filled so quickly. We tried to open the doors but couldn't.
"I just held my son and started to cry. I thought: 'That's it, we're going to die.'"
Fidaa and husband Alexander, from Montrose, were travelling to Inverness with Zakaryah on Saturday morning.
They chose to take the scenic route via Crathie and Tomintoul but encountered snow on the B976 road just beyond Ballater.
When the car could not climb a steep hill, they turned around, but on the way back down they hit black ice and ploughed straight on.
The car hit a snow pole before going straight over the edge and flipping over coming to rest in a water-filled hollow.
The family escaped serious injury only to find the freezing, knee-deep water pouring into the vehicle.
They were unable to get out of the car but fortunately a couple in a car behind had witnessed the accident.
They managed to get a door open and the family out through a rear door and comforted them ahead of emergency services arriving.
After being checked over by paramedics, the family were taken to Ballater by police to be given cups of tea before being collected by a friend.
It was only then that they remembered that Zakaryah's teddy was still in the car.
Fidaa said: "The police went back for teddy. They were absolutely amazing."
Fidaa, 32, was left with a strained wrist, Alexander, 29, a sore back, and Zakaryah scratches.
She said the family hoped to thank the couple that rescued them.
"They saved our lives," she said. "If they hadn't seen us it could have been a different story."