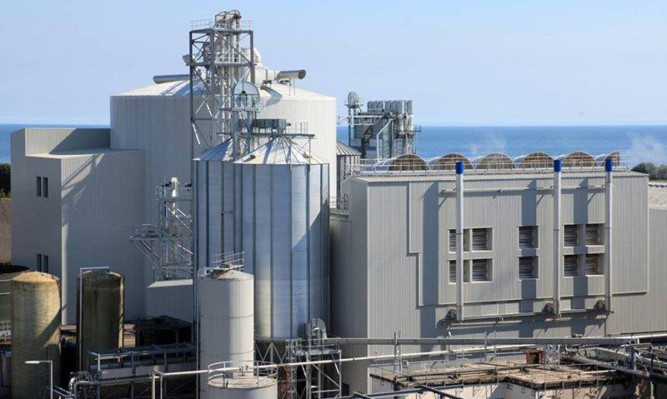 Operators of a £20 million Angus plant will consider appealing a decision to refuse a turbine which it said would "safeguard" 57 jobs.
The proposed wind turbine at the Bairds Malt plant in Arbroath, which it was claimed would "adversely affect" Arbroath Abbey, was refused by Angus Council under delegated powers following 141 letters of objection.
The reasons given for refusal were primarily residential amenity and landscape and visual impacts.
Richard Broadbent, technical director at Bairds Malt, said: "We are understandably disappointed by the decision of Angus Council to refuse our application under delegated powers.
"We have been working on this development for over four years, consulting widely with the local communities and working closely with the planning department throughout.
"It was therefore even more surprising that the council's landscape officer raised concerns at the 11th hour of the process.
"We do not agree with the planner's assessment of the application and have spent recent months providing additional data, which we believe addresses the outstanding concerns of the council.
"Bairds Malt brings significant investment into our community and provides employment for many families in the area. Our proposed turbine would have enabled us to significantly reduce our costs, allowing us to maintain our level of business and remain competitive in an increasingly challenging marketplace.
"We believe the refusal represents a real missed opportunity for growth in the local economy and genuine benefit to the local community."
He added: "We will now hold an internal review and will be considering our position going forward, including the possibility of an appeal to the decision."
Bairds Malt and their construction partner Kilmac submitted an application to Angus Council in December 2014 to develop a medium-sized turbine at their plant on the Elliot Industrial Estate.
The proposed single turbine would have been on the south-west corner of their site, with a height of 55 metres to its hub and 77 metres to tip, and would be partially screened by buildings.
The application was refused because it would "give rise to unacceptable impacts on the occupants of residential property by virtue of the height of the wind turbine and its proximity to residential properties".
The handling report also stated the turbine would "result in unacceptable adverse landscape impacts having regard to landscape character and setting within the immediate and wider landscape".