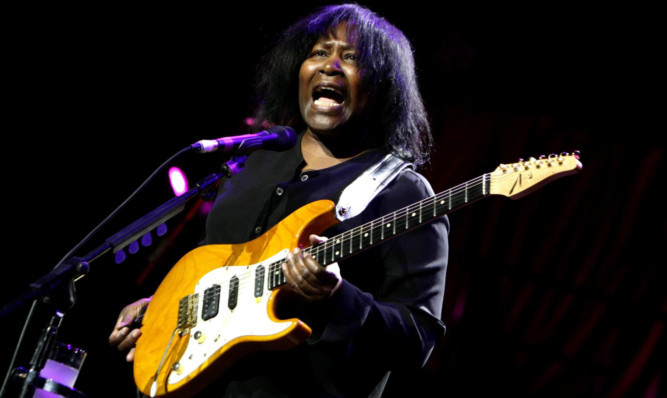 She is the Ivor Novello winner who performed for Nelson Mandela, received an MBE and was even immortalised in the pages of The Beano.
But Joan Armatrading said she is just as excited to be playing a sell-out gig in Arbroath tonight despite her lack of knowledge of the area.
She told The Courier: "I don't know a great deal about this town. I've never been to Arbroath before but it's always a treat to play somewhere new.
"I am really looking forward to performing in the Webster Theatre and to see how this audience reacts to the show.
"Last year, I played a lot more intimate gigs because I felt that with this solo tour I needed to have that intimacy, and I really enjoyed those shows. This year I'm playing the larger halls but decided that I would like to come to Arbroath, even though it was a smaller hall.
"I love Scotland and I've visited friends here often and also taken holidays here," she added.
"Scotland is beautiful and the audiences for the concerts are always good so it's a pleasure to visit and to play in Scotland.
"It's not my last tour but it's the last time I will tour extensively," she said.
"Because I wanted to visit as many cities as I could to play to the people who like my music, I felt it was a good idea to go to some places that I had previously never played."
Armatrading is a three-time Grammy Award-nominee and has been nominated twice for BRIT Awards as Best Female Artist.
In 2001 the same year Armatrading received an MBE she wrote the tribute song The Messenger and performed it in Nelson Mandela's presence.
In 1983 she was drawn into the Tom, Dick and Sally comic strip in The Beano after revealing that she was a big fan of the comic.
The singer says she gets her Beano annual every year and is still a member of the Dennis the Menace Fan Club.
Tonight's gig has sold out but Armatrading will return to the theatre on August 12 for a second date as part of her solo world tour.