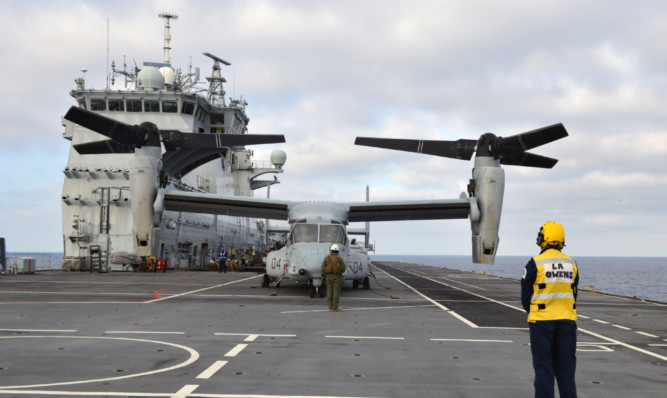 Royal Marines based in Angus are under the wing of Ospreys during their continued involvement in a series of US/UK exercises in the Mediterranean Sea.
The distinctive US Marine Corps MV-22 Osprey tilt-rotor aircraft will fly off the deck of HMS Ocean, transporting US and Royal Marines from ship to shore as they conduct amphibious assault training.
Capable of carrying up to 24 personnel, the Osprey can travel further, faster and higher than helicopters , meaning greater reach for the men of 45 Commando Royal Marines from Condor, on the outskirts of Arbroath.
They are now engaged in Cougar 15, the Royal Navy's annual deployment of the UK's maritime expeditionary force.
It is not the first time Ospreys have flown from HMS Ocean, as they used the landing platform during Nato's recent Exercise Trident Juncture. Prior to that the last landing onboard was more than five years ago.
Commander Adie Baker, who is responsible for aviation operations on HMS Ocean, said: "Having just taken over as commander air it is terrific to have the opportunity to work with the Osprey so early in my tenure.
"While they have visited Ocean in the past, having them embarked for a few weeks for amphibious exercises is the next step in increasing our ability to operate more closely with our allies."
HMS Ocean is a helicopter carrier and amphibious assault ship designed to deliver troops to the centre of the action by helicopter or landing craft.
Aviation capabilities include six helicopter operating spots on her flight deck with space in the hangar to hold, transport and maintain many more aircraft.
Ocean's ship's company of 450 personnel includes 9 Assault Squadron Royal Marines, who operate the four Mk5 landing craft vehicle and personnel and provide the projection of fighting capability ashore.
The 21,500-tonne vessel was launched in 1995, has a top speed of 16 knots and a range of 8,000 miles.
Cougar is the Royal Navy's long- standing annual deployment of the UK's high-readiness Joint Expeditionary Force (Maritime).
This year it will focus principally on working alongside and integrating with allied forces in the Mediterranean, notably French amphibious forces during Exercise Corsican Lion, as well as the wider Nato community in Exercise Trident Juncture.