 Arbroath Tennis Club has been transformed into a state-of-the-art all-weather venue following a £180,000 revamp.
Club fundraising over the last few years plus the support of many local trusts and organisations saw the court upgrade begin in mid-August.
Sportscotland also awarded an £86,802 grant towards the impressive upgrade as well as Tennis Scotland/LTA who awarded a grant of £10,000.
The upgrade carried out by Ecosse Sports to three all-weather courts with the installation of floodlights now means play will be possible throughout the year.
This will also allow the club to build its coaching programme without the constant fear of disruption due to the weather.
The clubhouse has also been transformed with top-quality coaching now under way on the new courts.
National squad coach Mark Walker heads up the coaching team following the transformation.
Club president Graham Crabb said it has been a fantastic journey for everyone involved.
He said: "I've been involved here for 40 years and first came up here when I was 11.
"It was a strange feeling to see the old courts and 100 years of history gone in the blink of an eye.
"The place looked like it had been hit by a bomb when work started, but the transformation has been incredible.
"All the hard work and all the fundraising has been all worthwhile to see the finished article."
Mr Crabb said the help from local businesses has been overwhelming especially with regards the clubhouse with many giving their services and supplies for free.
He said the total cost of the whole project will be between £180,000 and £190,000.
The club have also been given a boost with the news that Judy Murray will perform the official opening in March.
Although a date has yet to be fixed, tennis coach Judy mum to Andy and Jamie has agreed to come to Arbroath to cut the ribbon.
The club, which was founded in 1909, has more than 100 members and it also works closely with schools.
It has already helped bring through Jonny O'Mara, and is hopeful of lending a guiding hand to more budding young stars in the years to come.
Jonny, 20, climbed around 1,000 places to be ranked 864 in the world last year.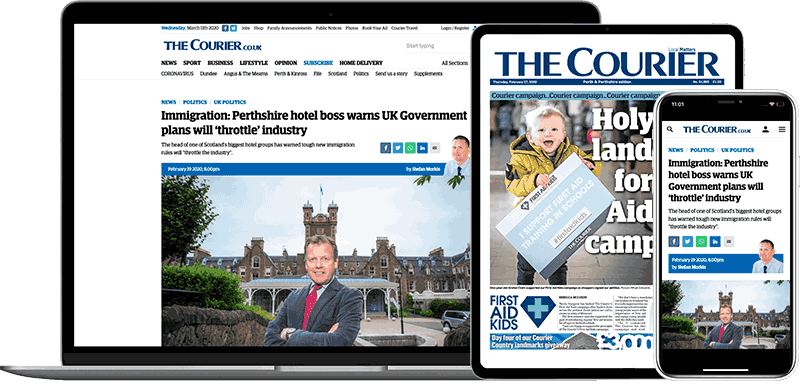 Help support quality local journalism … become a digital subscriber to The Courier
For as little as £5.99 a month you can access all of our content, including Premium articles.
Subscribe