Angus Council is working quickly towards delivery of the "right, practical co-ordinated support" for refugees arriving in the area.
The authority has also praised the efforts already made by people in the county to help the crisis situation, including the setting-up of a new voluntary support group.
A full meeting of the council takes place in Forfar today, where it is understood the migrant crisis and the potential Angus response to it will be discussed.
Provost Helen Oswald said: "The people of Angus are already demonstrating their determination to give what help they can to the displaced. Indeed, a number of groups in our community have come together to do what they can to assist.
"We as a council are also determined to assist with the particular needs of this very vulnerable group."
She added: "We will work with the UK and Scottish governments as well as our Cosla colleagues to ensure that the right practical coordinated support is available to them through the services we can provide.
"At the same time, we would encourage everyone to support the fantastic work of local volunteers and the wider voluntary sector, which has great experience in making sure that people get the right support.
"Among the local voluntary groups is the recently-formed Angus Solidarity for Refugees. Anyone seeking to help can find out more information at their Facebook page."
Meanwhile, children at Liff Primary were among those who helped collect and sort hundreds of donations for refugees.
The school was one of four from the Monifieth catchment area that rallied around to offer support.
Jo Whaite, the Active Schools co-ordinator said she was inspired to do something and along with her friend Marie-Anne Scott they started Carnoustie to Calais.
Now they have had so many donations they have teamed up with the Angus Solidarity With Refugees to get them sent to where they are most needed.
"It started six to seven days ago and we've just been inundated. It so heart-warming," Jo said.
She said every child, parent and teacher at the four schools, Seaview, Liff, Murroes and Mattocks, had played a part, and many locals had also come along with donations.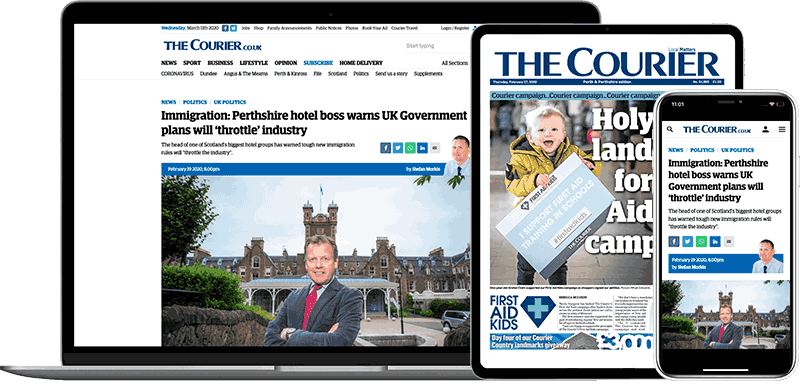 Help support quality local journalism … become a digital subscriber to The Courier
For as little as £5.99 a month you can access all of our content, including Premium articles.
Subscribe