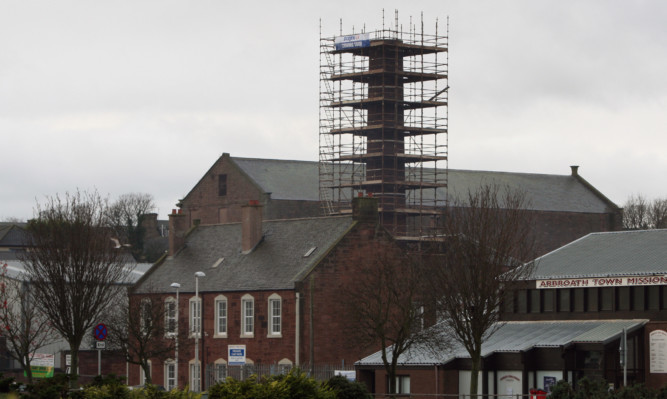 A prominent reminder of Arbroath's industrial past has been saved.
The large chimney stack which served the town's Baltic Mill in Arbroath has been retained by a local developer as part of a residential conversion project at the Dens Road site.
The old mill is being turned into affordable homes, commercial units and community space over the next three years.
Its chimney, a landmark for many, including passengers travelling on the adjacent east coast rail line, is the last one of such a scale still standing in the town.
Developer Dens Road Ltd has spent weeks repointing the stack and securing it with stainless steel bands.
Angus Council communities convener Donald Morrison said the developer was to be "congratulated in retaining this iconic feature".
He added: "So many redevelopment projects see bold factories and once proud civic buildings make way for modern edifices of glass and steel.
"Baltic Mill, with its imposing chimney stack, has helped shape Arbroath's skyline for more than 150 years and provides an important link with the town's past."
The huge building was originally built in 1861 as a linen weaving factory, owned by successful manufacturer Andrew Lowson.
Having been empty for decades, work on the £5 million redevelopment of the A-listed building started earlier this year.
The project has received £1.08m funding from Angus Council's survive and thrive programme and £800,000 from the Scottish Government's Regeneration Capital Grant Fund.
Its second phase will see the creation of 36 affordable housing units for mid-market rent and is expected to take two to three years.
Thought to have been named after the Baltic Sea, where ports provided flax for the weaving process, the mill has also variously served as a distillery and sail maker's base in its time.
It was also a military training base during the Second World War.