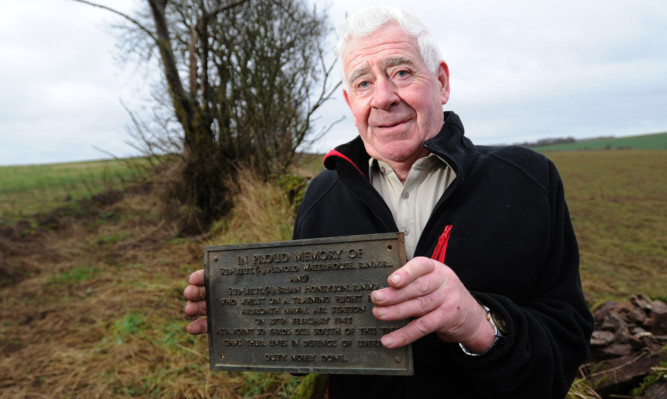 The mystery over the fate of a wartime Angus memorial has been solved after a farm field gave up the precious bronze plaque.
Metal detecting enthusiasts swooped on the site near Forfar in the hunt for the memorial to two Second World War airmen who died when their biplane came down during a training mission within miles of their Arbroath air station.
This week The Courier reported the quest by detectorists to trace the plaque commemorating 21-year-old Sub Lieutenants Brian Honeybun and Arnold Waterhouse, whose Fairey Swordfish torpedo bomber fell from the skies over Gask Farm, near Letham, on February 27 1943.
A cross was erected in memory of the young Englishmen but after being carefully looked after for decades, it eventually fell down and Detecting Scotland members took on the task of trying to recover the plaque so it could be placed on a new monument planned for the site.
Several enthusiasts found parts of the plane during the initial visit but determined Perth man Gordon Ross hit the jackpot when he returned the next day and uncovered the well-preserved bronze plaque.
Salesman Gordon, 57, said he homed in on one part of the field after speaking again to farmworker Dave Proctor. He came up trumps after clearing away the vegetation near a line of trees which the aircraft is thought to have hit.
"I first uncovered what looked like Bakelite and I now believe that this was a backing to the plaque itself," Gordon said.
"I kept going down and found it lying upside down, more or less flat, about five inches down. I'm surprised they didn't hear me shouting back up at the farm."
Gordon added: "I've been doing this seriously for about a year to 18 months and this is a great one for us to find. It was a team effort, there were a few Detecting Scotland members there on the first day and I just happened to be the one that passed my detector over it when I went back. It's in remarkably good condition and hopefully it'll brush up to be put on a new memorial.
"Being in the club is a fantastic way of getting out and trying to find interesting things, and this is right up there."
Farmer David Lumgair is now confident a new marker to the two men from Royal Naval Air Station HMS Condor, near Arbroath, will be built.
"I had a deep-down feeling that this might never have been found, that it could have been picked up and taken away, so I am really pleased that it has turned up," he said.
"It's amazing that they found it so quickly and hopefully it might be built into a memorial, perhaps in the dyke, to remember these two men."
The inscription on the plaque, thought to have been erected by families of the two flyers, reads: In Proud Memory of Sub-Lieut (A) Arnold Waterhouse RNVR and Sub-Lieut Brian Honeybun RNVR who whilst on a training flight from Arbroath Naval Air Station on 27th February 1943 at a point 50 yards due south of this tree gave their lives in defence of liberty. Duty Nobly Done.