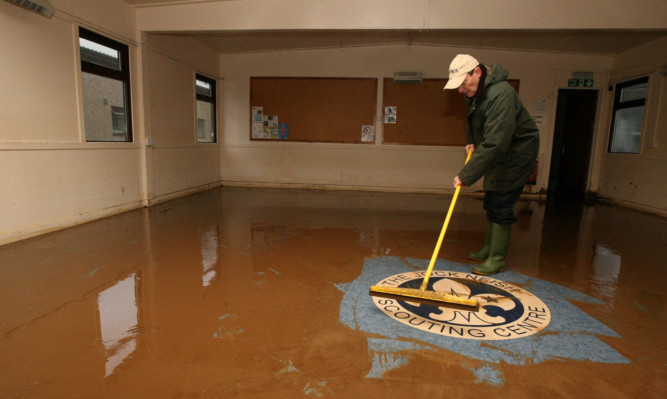 Angus Scouting chiefs face a race against time and another massive insurance claim after a renowned centre suffered its third major flooding hit in the past two years.
Officials are still unable to assess the full extent of damage to the Jock Neish centre near Tannadice, which was deluged by Storm Frank before this week's heavy rains poured in more muddy water from the South Esk.
North Angus District Scout Council chairman Bill McDonald said: "The water was flowing through the centre like a river. No one involved with the centre has seen anything like the last few days.
"Thankfully no one had to be evacuated and there has been no danger to life, but we are now certainly in a race against time to accommodate the bookings which start in March."
Around 15 inches of water poured into the main building, the dining room area was affected for the first time and a dormitory block was also breached, although it is hoped that has not sustained major damage.
"There will be another big insurance claim to sort out and a lot of hard work ahead of us," added Mr McDonald.
"Although there were insurance monies for the two other incidents, volunteers and tradesmen helped us enormously to get the centre back in action.
"My big fear is that one day the insurance company may turn round and say they are not going to cover us."
The Scott Lodge in Glen Doll and also by the South Esk has also suffered Storm Frank anguish.
The lodge, built by the Boys' Brigade in 1967 to cater for groups across the country, has not flooded because most of the water has stayed on the opposite south bank but fears remain over its power supply and clean water source.
All bookings have been cancelled and the lodge has closed after an electricity pole washed away and had to be replaced.
The river has eroded the banks to within a metre of the access road.
Dundee and Angus Battalion secretary Alistair Joss said: "We have a major concern about our internal electrics as all of the RCD units continue to trip and so we have no service on any sockets.
"An electrician is to be on site this week to identify the problem and hopefully rectify it."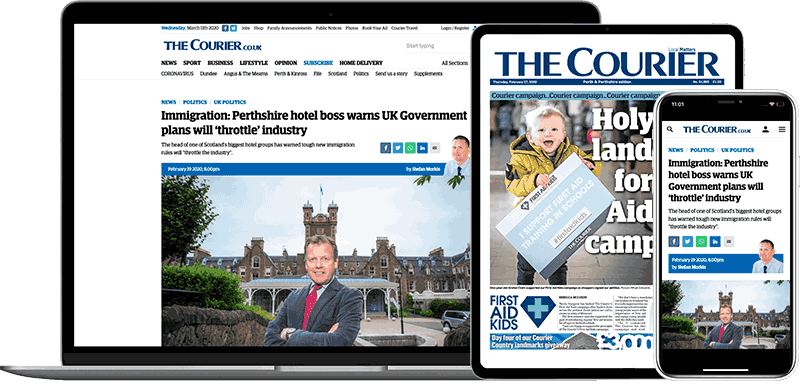 Help support quality local journalism … become a digital subscriber to The Courier
For as little as £5.99 a month you can access all of our content, including Premium articles.
Subscribe