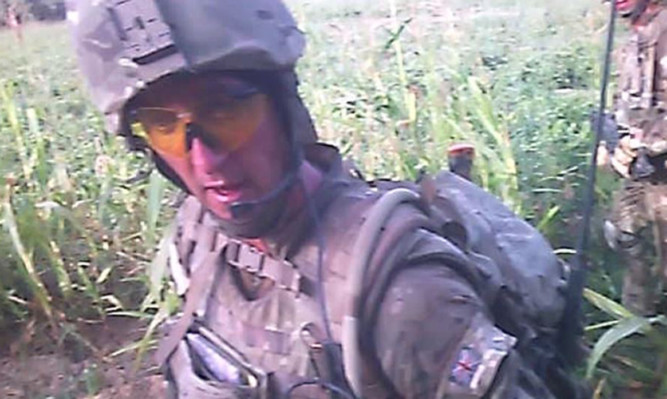 Arbroath-based 45 Commando veterans will today join more than 1,300 people in a public show of support for one of their brothers.
45 Commando Veterans (Scotland) travelled overnight to London and will gather at Parliament Square for the rally for Sergeant Alexander Blackman.
The 41-year-old was given a life sentence after being convicted of murdering an injured Taliban captive in Helmand province in Afghanistan in 2011.
Sgt Blackman's supporters believe he was made a scapegoat for a wider failure of high command, and now there will be an application to have his murder conviction reduced to manslaughter.
The case has been of huge interest in Arbroath after former 45 Commando commanding officer Oliver Lee quit the Royal Marines in protest at Sergeant Blackman's sentence.
Days before Blackman shot the Taliban casualty, Lee had been made the sergeant's de facto commanding officer.
Lee felt compelled to resign his Royal Marine commission on a point of principle after his offer to give mitigating evidence on Blackman's behalf was rejected.
Stuart Lavery, chairman of 45 Commando Veterans (Scotland), said: "It's not the case that we are upset we are up in arms about it.
"Child murderers have got six years and this guy got life. The man was only doing his job and he was set up.
"Oliver Lee resigned his commission in protest and he was going to go all the way to the top."
Blackman, of Taunton, Somerset, was convicted in 2013 and lost an appeal in May last year, but his 10-year minimum term was reduced to eight years.
The killing took place after a patrol base in Helmand province came under fire from two insurgents.
One of the attackers was seriously injured by gunfire from an Apache helicopter sent to provide air support and the marines found him in a field.
Footage from another marine's helmet-mounted camera showed Blackman shooting the Afghan prisoner in the chest with a 9mm pistol.
He denied murder, saying he believed the victim was already dead and he was taking out his anger on a corpse.
Active servicemen were told not to join the rally by the MoD but former marine John Davies one of the rally organisers insisted the event was not a "political protest".
He said: "It is a show of support to one of our fellow Royal Marines."