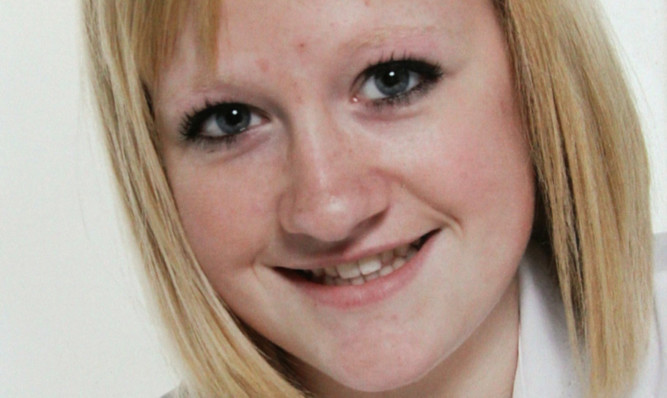 A senior NHS Tayside figure is facing a professional tribunal over the circumstances surrounding the tragic death of an Angus teenager.
The Courier can reveal that Dr Michelle Watts, associate medical director of primary care services, is set to appear at a fitness to practise hearing in Manchester next month over claims including failing to record the symptoms of Kirriemuir 17-year-old Claire Taylor, who succumbed to undiagnosed Type 1 diabetes in November 2012.
The popular Webster's High School pupil had been ill for around two weeks due to an apparent viral infection, but her condition deteriorated rapidly and paramedics were unable to save her.
Claire's family subsequently launched Court of Session proceedings over the alleged misdiagnosis against Kirriemuir Health Centre and Dr Watts, who was a partner in the practice at the time.
The court action has been sisted while an investigation by Dr Watts' professional body is carried out and she has now been called before a Medical Practitioners Tribunal Hearing in Manchester which will consider a case of alleged misconduct.
The General Medical Council investigates doctors against whom complaints are made and then brings a case against them to the Medical Practitioners Tribunal Service (MPTS) for that body to make a decision about a doctor's fitness to practise.
The tribunal will look into an allegation that Dr Watts failed to arrange appropriate investigations and consider appropriate diagnoses in two separate consultations with Miss Taylor.
It is also alleged that in the notes of the second consultation, Dr Watts failed to record the patient's symptoms, including new symptoms she knew the patient had and that the record Dr Watts made of the second consultation was misleading and dishonest.
The hearing is scheduled to take place in Manchester from March 14 to 23.
The Taylor family, Claire's parents Malcolm and Helen, and brothers Dougie and Andrew have gone on to raise significant sums of money and boost awareness of the condition through organisations including the Juvenile Diabetes Research Forum and Diabetes UK Scotland.
Claire was a keen young baker and had ambitions of a career as a dietician.
Type 1 diabetes is caused by an immune system problem and those affected by it require multiple daily insulin injections or pump infusions.
Her family said it was not appropriate to comment in advance of next month's proceedings and the sisted court action.
A spokesperson for NHS Tayside said: "We do not comment on matters relating to individual members of staff."