 A novice Angus biker's brush with death has brought a sheriff's warning of the risks facing every road user.
Robert Nicolson suffered catastrophic injuries in an April smash in which his 1,000cc Yamaha ploughed into a car turning off the A92 between Arbroath and Montrose.
Just months after passing his bike test, the 31-year-old had been attempting to overtake on a long straight stretch but failed to see the car signalling and could not avoid the crash which left him on a life support machine.
Nicolson, who is still recovering from injuries which included fractures to his arms, collarbone and spine, appeared at Forfar Sheriff Court in connection with the April 19 incident, admitting a charge of careless driving.
Depute fiscal Hannah Kennedy said the crash happened around 3pm when Nicolson, of Wirren Gardens, Montrose, and his brother were riding motorbikes behind a car on the road northwards.
"There was no issue of speed being involved, the accused simply failed to notice the complainer was signalling," the court was told.
"The accused suffered significant injuries and the complainer suffered minor injuries."
Defence solicitor Billy Rennie said: "Speed wasn't an issue."
He said Nicolson had only passed his motorcycle test in September and he was not properly used to the high- powered machine he was on.
"It is a long straight piece of road, he saw an opportunity to overtake and thought it would be safe.
"He doesn't recall anything of this, he has pieced it together from what his brother has told him.
"He was resuscitated and was on life support. He was close to killing himself as a result and it may be a very long time, if at all, that he returns to motorbiking," said Mr Rennie.
"He usually works offshore with a very comfortable income and it is a number of months before he returns to work.
"This is an error of judgment," the solicitor told the court.
Fining Nicolson £450 and imposing six penalty points on his licence, Sheriff Gregor Murray told the accused: "This is a reminder to all those who travel on the roads that long straights are all very well to overtake on but you have to anticipate other people making manoeuvres.
"I also have to take into account the fact that you have clearly suffered the most as a result of this accident."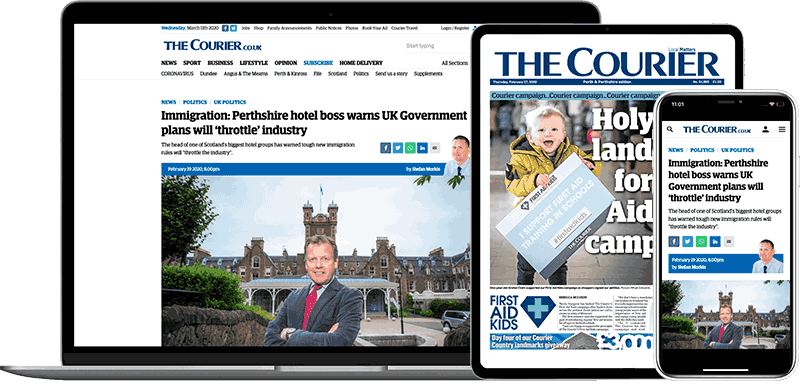 Help support quality local journalism … become a digital subscriber to The Courier
For as little as £5.99 a month you can access all of our content, including Premium articles.
Subscribe