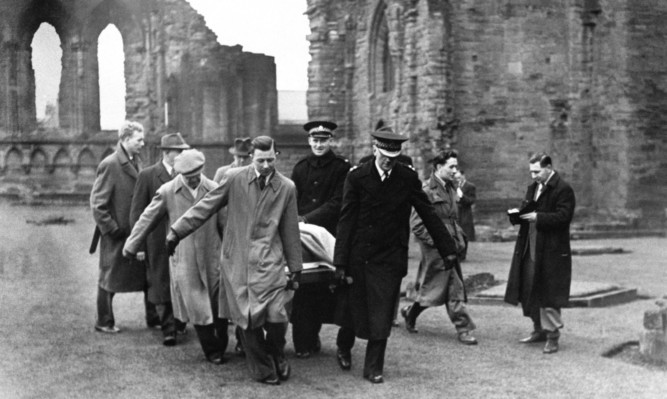 The Arbroath reporter who broke the story that the missing Stone of Destiny had been discovered has died at the age of 89.
Arthur Binnie was a reporter with the Arbroath Herald when the stone was removed from Westminster Abbey in London by four Nationalist students on Christmas Day in 1950.
The stone had been there for more than 600 years, since it was taken from Scotland in 1296 by Edward I, who knew its importance as the Coronation stone of Scottish kings at Scone. For centuries it sat under Westminster's Coronation chair, until the students' stunt shocked the establishment.
Mr Binnie was at his desk in Arbroath on April 11 1951 when the phone rang with a tip that if he went to the town's abbey he may find something of interest.
He took the office camera and cycled to the abbey, to be met by the uniformed custodian who led him silently through the abbey ruins to the high altar.
There, he found the Stone of Destiny covered in a Saltire. He was handed an envelope with a message from the four students.
Amazingly, he had the story all to himself. A local councillor had been meant to alert other journalists but decided to inform the police first.
The officer in charge in Arbroath took a while to establish the story was not a hoax.
Mr Binnie's story and photographs went all over the world. Shortly after his scoop, he moved to Aberdeen and spent 20 years as the head of the BBC's Aberdeen newsroom.
He and his wife Bette celebrated 63 years of marriage in September.
The Stone of Destiny was returned to Scotland permanently in November 1996.