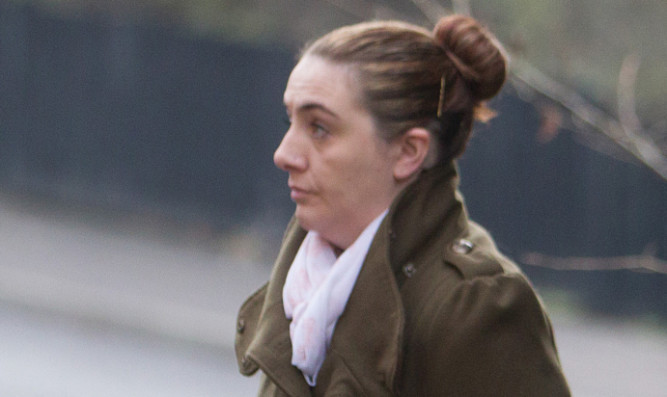 An Angus meals on wheels driver attacked her ex-husband and another former partner on the same day.
Barbara Meechan, from Kirriemuir, kicked her ex-husband Richard Meechan in the groin and tried to burn his face with a lit cigarette on August 30, after she seized Gavin Hislop by the throat and repeatedly punched his face.
The 34-year-old appeared at Forfar Sheriff Court and admitted assaulting both men to injury in separate incidents in Kirriemuir on August 30.
Defending Meechan, solicitor Lynn Sturrock said she had pleaded guilty at an early stage.
"While these are serious matters, she is 34 years of age and hasn't come to the attention of the courts before now," said Ms Sturrock.
"She continues to be employed by Angus Council as a community meals driver and I am told that she is well regarded in that position."
Sentence was deferred to June 2 for good behaviour and Meechan's bail was continued.
Sheriff Gregor Murray told her: "It may still be necessary to place you on a community payback order at the end of this.
"However, I will defer sentence on you for six months for you to be of good behaviour."
An Angus Council spokesman said: "We will not discuss the circumstances of individual members of staff."
Meechan, from Wellgate, admitted assaulting Gavin Hislop in Wellgate, Gordon Park and Douglas Street, all Kirriemuir, on August 30 this year, blocking his path, pushing and pulling him on the body, pushing him to the floor, seizing him by the throat and compressing it, repeatedly punching him on the body, pushing him on to a bed, repeatedly punching him on the face, and seizing him by the clothing, all to his injury.
She further admitted assaulting Richard Meechan in St Colmes Close, Kirriemuir on the same date, attempting to burn him on the face with a cigarette, kicking him in the groin, seizing him on the groin, repeatedly punching him on the body and kicking him on the leg, all to his injury.