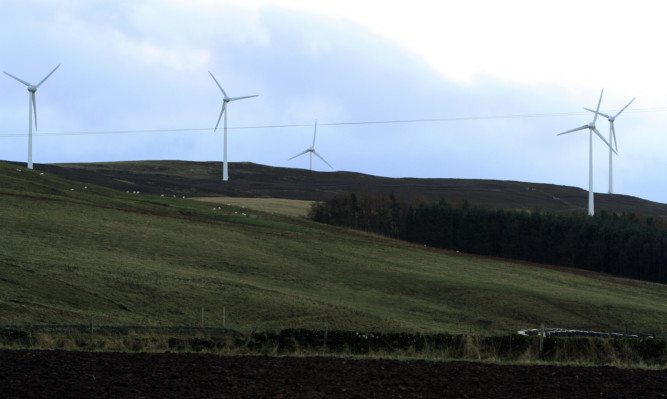 Angus windfarm operator Green Cat Renewables has issued a robust defence of its Ark Hill operation near Glamis and said the eight-turbine operation is fully compliant with noise controls.
The company had been accused by opponents of "giving Angus Council the run around" over delivery of a monitoring report for the Strathmore site.
But Green Cat said the need to compile a full range of data in all types of weather conditions led to a lengthier and more costly monitoring process.
The company said no enforcement threat was made over the windfarm, despite sources suggesting to The Courier that Angus Council had sent an email to some residents in the area indicating formal action might be taken.
A company spokesman said: "Since the Ark Hill windfarm became operational, Green Cat Renewables have been monitoring, analysing and reporting on noise levels from the turbines to be able to demonstrate compliance with planning condition noise limits at the closest properties.
"On September 4, Green Cat Renewables provided their second report since the windfarm started generating in 2012 concluding that noise from the windfarm meets the planning limits at the closest properties.
"This report demonstrates that not only is the windfarm in full compliance with its planning conditions but also the more stringent limits that would be applied to new windfarms.
"Since 2012, a small group of objectors have persistently put forward allegations of noise problems with not a shred of evidence to back this up."
The spokesman added: "The most recent, second monitoring campaign began on March 10.
"To be thorough, a full range of wind speeds in all directions needed to be assessed at quiet times of day when background noise levels are low, requiring a lengthy monitoring period.
"In this case, monitoring had to continue until June 15 because there were few periods of easterly winds of the right strength at the right times of day.
"Had the monitoring not continued until the required data was obtained, the analysis could have been criticised for not assessing all required conditions.
"During the monitoring period, interim updates were provided to environmental health and the planning authority."
A draft report was issued to the council on July 20 which Green Cat said "demonstrated that the project was meeting its noise planning limits".
Further analysis of the data was requested to be included in the final report, which the firm delivered on September 4 and they said no enforcement was threatened.