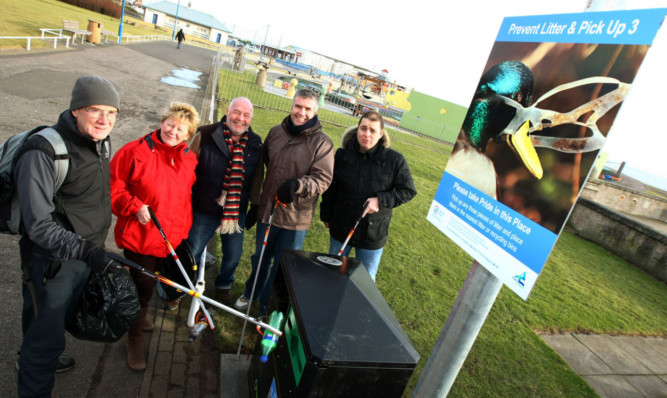 An Angus anti-litter campaign has delivered spectacular results on a busy stretch of coastline.
In just three months, the Prevent Litter and Pick Up 3 campaign at Arbroath's West Links and the path and cycleway to East Haven has seen overall littering cut by a third.
There was a 61% reduction in drinks-related rubbish, confectionery waste cut by half and the ever-present problem of dog poo slashed by almost 40%.
The campaign encouraged people to stop littering and pick up any three pieces of litter.
New litter bins were installed and graphic images used on signs throughout the area to highlight the environmental impact and dangers of litter on people and wildlife.
Councillor Jeanette Gaul, chairwoman of Angus Council's Pride in Place group, said: "The most significant factor in the success of the Pick Up 3 campaign was the fantastic partnership approach taken.
"A 33% overall reduction in litter during the period of the project is an excellent start and we want to continue that success throughout the busy summer months."
A West Links Partnership spokesman said: "Hopefully the campaign message will leave a legacy that will reduce the problem."
Wendy Murray from East Haven Residents' Association said: "It was hard work over a fairly short period of time but the public were very responsive and supportive of the initiative.
"Even on very busy days we hardly have any litter left at all now.
"We believe campaigns such as this should be rolled out across Scotland to develop a mindset where littering is no longer seen as acceptable."
Jillian Low from the Arbroath Skatepark Project said: "I am proud that our group was able to play their part in the project."
Craig Maclean, operations consultant for the Arbroath Road McDonald's restaurant, said: "We as a business understand the important role we play in making the area a better place.
"Whilst in the first instance we are keen to actively discourage littering, community initiatives like this one help make a big impact."