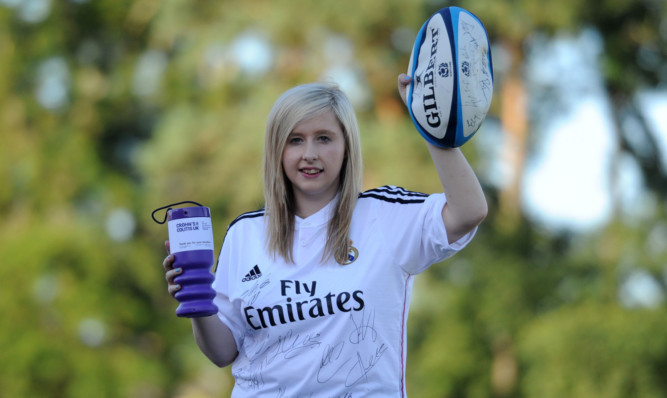 An Angus woman with Crohn's disease is hoping Cristiano Ronaldo and Gareth Bale will help her raise money to find a cure.
Kirsten Cameron, from Inverkeilor, was diagnosed with the inflammatory bowel condition three years ago.
Doctors gave her medication but her condition continued to deteriorate.
Last year the 20-year-old shed three stone as she completely lost her appetite.
Earlier this year doctors advised her to stop taking humira injections and they ran more tests.
They found that Kirsten had Crohn's in three different areas of her body, which is extremely rare.
She said: "I was becoming really unwell on the medication so they took me off it and ran lots of tests.
"They found out that I have it in my large intestine, small intestine and also my stomach. It's very unusual to have it in all three areas.
"At the moment the doctors are waiting to see what happens. I might even have to start being fed through a tube so I get the right vitamins and minerals if my stomach can't digest anything. At the moment I'm having two liquid meals and one solid meal a day a lot of soups, jellies and custards."
Kirsten's diagnosis has not stopped her raising money for Crohn's and Colitis UK though.
Last year she raised just over £5,000 through a sponsored skydive and organising a football tournament in Montrose. She is hoping to raise a similar sum holding a charity race night and auction at the Meadowbank Inn in Arbroath at 7.30pm on Friday September 11.
She has already gathered an impressive collection of items to be auctioned on the night, including a signed Real Madrid football top, a signed Dundee United top, a signed top and ball from the Scottish rugby team and some signed items from boxer Amir Khan.
"I've been writing to the big clubs for items since June but now I'm hoping that local businesses will also get involved and donate some items to be auctioned on the night," she said.
"Crohn's is becoming more and more common and all the money will go to the charity in the hope that a cure can be found."
Anyone who would like to donate items or purchase tickets is asked to call Kirsten on 07710 611919.
She is also looking for someone to perform the master of ceremonies role on the night.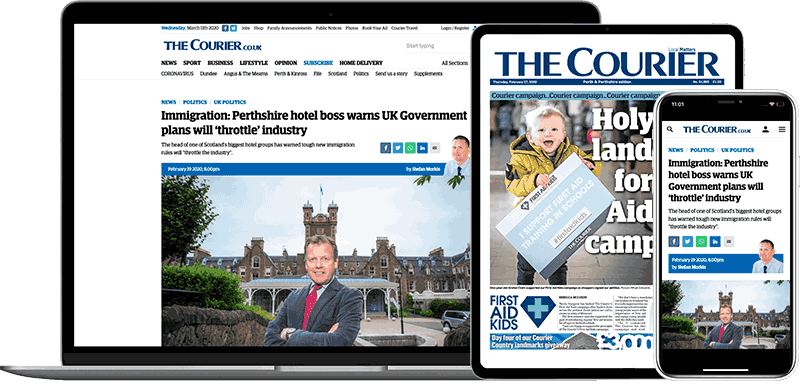 Help support quality local journalism … become a digital subscriber to The Courier
For as little as £5.99 a month you can access all of our content, including Premium articles.
Subscribe