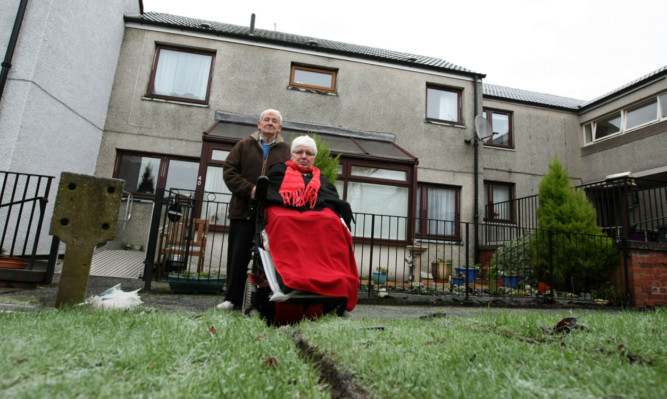 A pensioner couple are pressing Angus Council for action on a situation which they claim has left a wheelchair-bound motor neurone disease sufferer virtually "a prisoner in her own home".
Forfar senior citizens William and Louisa Hunter have been in dialogue with the local authority for months in the hope of a path being created outside their Wellbraehead house.
Since being diagnosed with MND, 74-year-old Mrs Hunter's health has deteriorated to the point where she now requires to use a wheelchair to get out and about.
Although she is a regular attender at Forfar Day Care Centre and gets out as frequently as possible, 79-year-old Mr Hunter is faced with pushing his wife's chair across a grassy area outside their home and the couple's patience has finally snapped after Storm Frank and its aftermath turned it into a muddy mess.
Mr Hunter said: "There is a path leading from the house but there are steps on it and through our occupational therapist we have been on at the council to put a path over the grass.
"Looking out from our house it would be straight across the grass, maybe a distance of 20 or 30 metres and we've been trying to get it done for months.
"The council have been up a few times but it seems to be that the buck is always passed from one person to another.
"It seems it always comes down to money. Even if they could put a plastic grid down it would make it easier.
"I even offered to pay some of the building materials but I haven't heard anything more about it."
He added: "Louisa's health has deteriorated and she is pretty much wheelchair-bound all the time now, but I like to try to get her out as much as possible and she enjoys going to day care.
"Getting over the grass, especially in the weather we have had, is very difficult and if it freezes or snows it will be just as bad, or worse.
"She is near enough a prisoner in her own home just now."
An Angus Council spokesman said: "We are aware of the situation and are in contact with the residents concerned with a view to finding a suitable solution for them."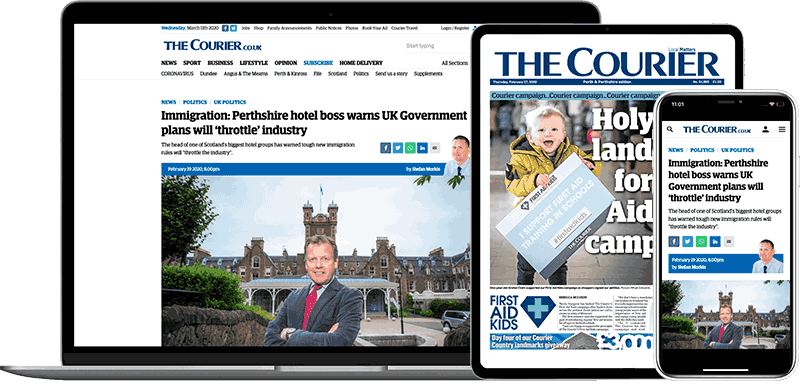 Help support quality local journalism … become a digital subscriber to The Courier
For as little as £5.99 a month you can access all of our content, including Premium articles.
Subscribe