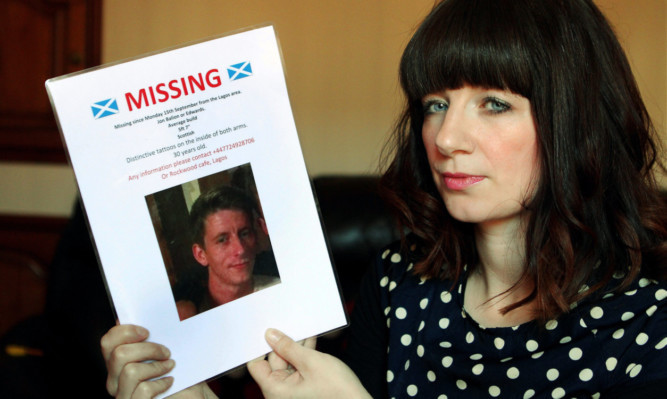 A Tayside family is still searching for answers a year after an Arbroath man disappeared without a trace in Portugal.
Jon Edwards, 31, had been working in Lagos in the Algarve when he left his flat on September 15 last year.
Three days before he went missing he temporarily knocked himself unconscious after falling down a hill and he had missed work because of headaches.
His mother Lesley and sister Kenna Balion travelled to Lagos to speak to his friends and put up posters in the area.
Their appeals for information on social media have gone all over the world but, despite their efforts, they have not heard from Jon.
In the past year they have waited for news about a man who drowned near where Jon disappeared, been faced with a ransom demand from a man who claimed to be a Boko Haram militant and, last month, thought Jon had been photographed watching a football match. But every lead has turned cold and his disappearance is still a mystery.
Jon left behind his mobile phone, clothes, passport and other personal possessions in his flat and Lesley intends to travel back to Lagos at the start of next month to collect his belongings from the police.
She said: "The police have stopped their investigation over there so I want to collect his stuff from them.
"I'd rather have them over here and I keep thinking there's a small chance that Kenna and I might see something on his phone which the police might not have considered significant."
Kenna described the last year as "awful" and said she had found it very difficult being unable to talk to him.
She said: "We were very close and I would chat to him about anything. He knew everything about me.
"A lot has happened in the past year and I immediately think to send him a message. Then I remember that he is missing.
"If it is the case that he is safe and is taking some time, I would ask him to please get in touch.
"He doesn't have to contact me or mum, it could be any of his friends. We just want to know that everything is OK.
"If it is the case that he has a new life, then that is fair enough, but a simple text would put us at ease."
In December the family faced a terrifying threat over Facebook from a man claiming that Jon had been kidnapped by Boko Haram and would only be freed if $6,000 was paid.
This was investigated by police and dismissed as a hoax.
Last month, Jon's story went all over the world after a lookalike was photographed at a Chelsea FC football match.
Lesley said she was convinced it was Jon until the sister of the man who was photographed came forward.
Lesley said she had "imagined every scenario" in the past year about what might have happened to her son.
"I've got to think that he is still alive," she said. "I can't think otherwise."