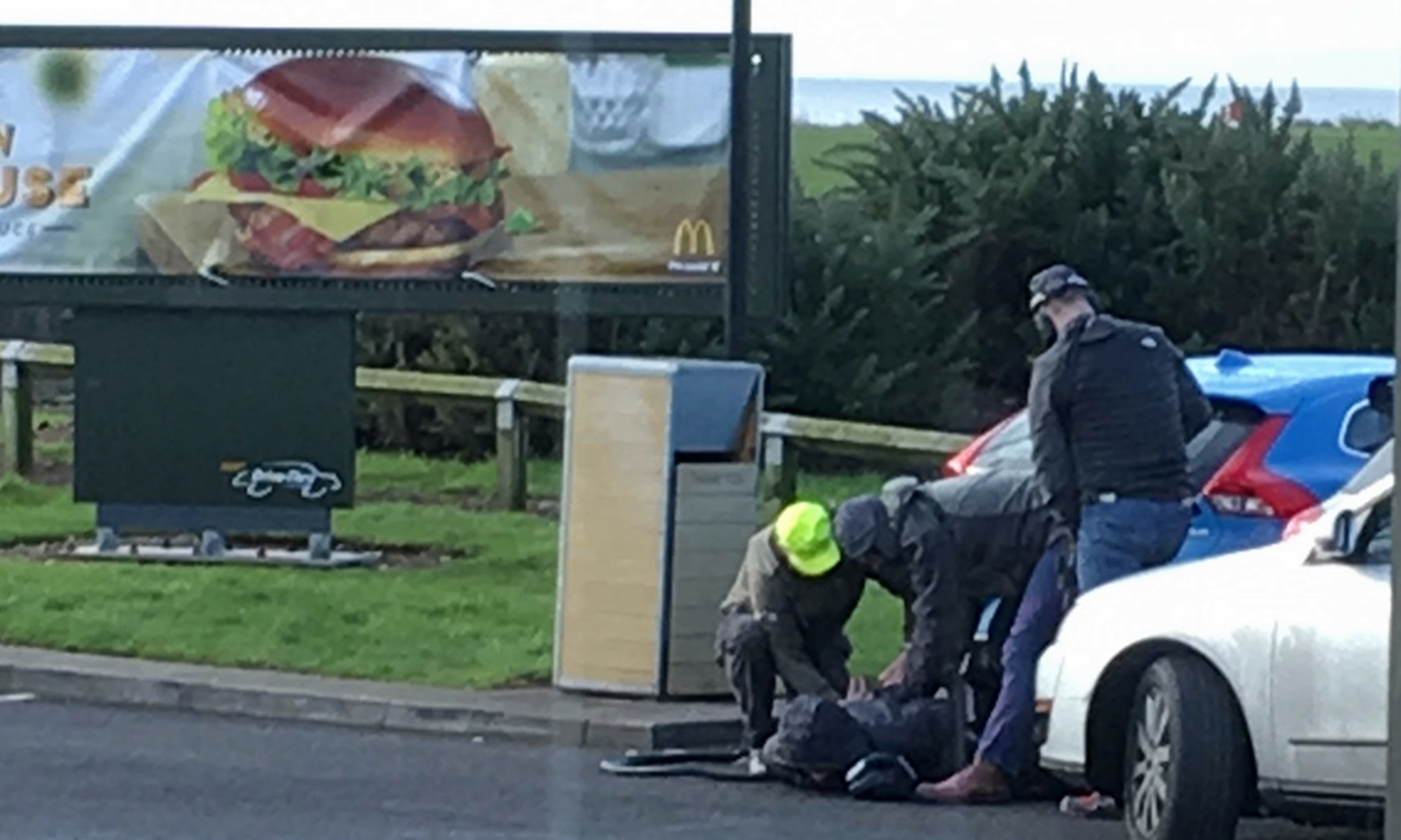 Shocked diners heard gun shots being fired as several men were detained by a police armed response team outside McDonald's in Arbroath.
Five people are being held by police in relation to the theft of a cash machine in Carnoustie at 4.30am on Friday.
A statement released by Police Scotland read: "The detentions are part of an ongoing police operation involving officers from Police Scotland's Organised Crime Unit based at the Scottish Crime Campus in Gartcosh, officers from Tayside Division and Titan (North West Regional Crime Unit, England).
"As part of the operation, vehicle tyre deflation rounds were discharged directly into vehicle tyres. This is a recognised and practiced tactic which is used specifically to disable a vehicle and was deployed in order to reduce any potential wider impact to the public and to maximise their safety.
"As a result, and in line with routine procedure, this incident will be referred to PIRC for review.
"Enquiries into today's incident are ongoing and anyone with information is asked to contact Police Scotland on 101 or Crimestoppers on 0800 555 111 if you wish to remain anonymous."
Diners at McDonald's reported "two or three" shots and some customers huddled in cars, heads down, stunned and uncertain about what was occurring.
One witness told The Courier she had seen officers restraining a number of suspects on the ground and had seen officers armed with rifles arriving on the scene.
Another was eating breakfast at the fast food chain's Westway Retail Park outlet when another customer said police had men on the ground outside.
The arrests took place just before 10am. It is understood that the men had been travelling in a Mercedes car.
The Angus man, who took a picture of one of the men being arrested, said: "I was eating breakfast when someone said there are guys outside on the floor, the police have got them on the floor in the car park.
"There was an armed response team and four or five guys were taken away in police cars.
"They didn't enter McDonald's. Part of the car park has been cordoned off."
Another witness said: "A man in the Mercedes was calmly having a coffee when two police cars surrounded the car.
"One came behind it and the other went right up to the driver's door.
"From there they bundled the guy out. I only saw one man being arrested, but there may have been others.
"The police helicopter was overhead the whole time. This happened at around 9.30am."
The ATM was stolen from the Co-Operative shop on Barry Road after the front door shutter was breached in the early hours.
A major police presence was deployed between David Murray Transport and Liz McColgan's former home Panbride House, to the east of the town.
Dozens of vehicles were at the scene including a police helicopter which circled the area.
Officers were also visible at locations around Tayside include the Kingsway, Claypotts and Swallow roundabout in Dundee and Broxden roundabout in Perth as well the A92 between Dundee and Arbroath.
Speaking at the scene Carnoustie councillor Brian Boyd said: "The lodge and stables at Panbride House have been secured since it went up for sale.
"It looks like the police are really interested in that area.
"I hope this is resolved quickly for the people of Carnoustie."
One householder in the area said: "I have never seen anything like it. People say that nothing happens in Carnoustie."
Cash machine thefts have become increasingly common in the north east of Scotland.
Police are still hunting criminals who got away with more than £100,000 from an ATM in Kirriemuir and attempted a similar raid in Friockheim in December 2014.
Last January, two ATMs were ripped from the wall of a Morrisons supermarket in Banchory, Aberdeenshire, with £10,000 taken.
In June, thieves made off with £50,000 after blowing up an ATM at Newtonhill's Tesco store and there was another failed attempt on a cash machine at a filling station in Aboyne in October.
See Saturday's Courier for a four-page special on this story.