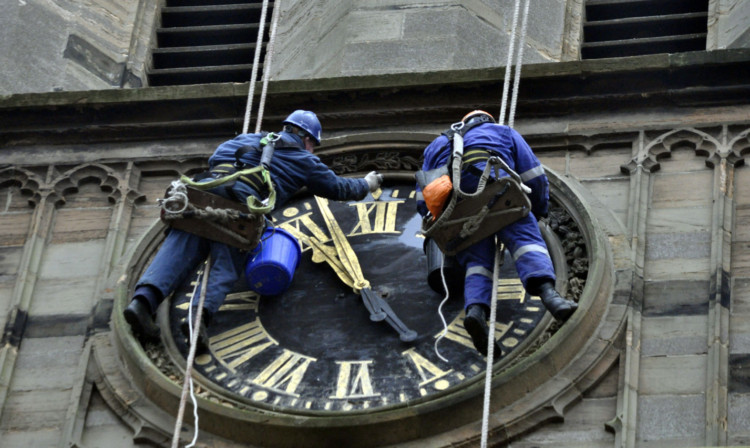 The costly restoration of an Angus clock tower has been set back by at least six weeks.
The cost of repair works to Montrose Steeple, initially estimated at £5,000, has risen to £32,741 and further unexpected damage has been found.
Workmen finished a maintenance programme on its clock faces on Tuesday, but will be forced to remain until the end of next month after a broken balustrade was discovered.
Mineral experts have been drafted in to make sure the correct replacement material is selected itself a time-consuming process.
A council spokesperson said: "The maintenance to Montrose steeple will be completed by Friday October 18, weather permitting.
"Detailed inspection of the steeple has revealed a short section of stone balustrading which requires to be replaced.
"A sample piece of stone from the steeple is being analysed by the British Geological Survey to confirm to type of stone used to allow replacement stone to be sourced and carved to match the existing.
"Due to this process, it is anticipated all the works, including stone replacement, will be completed by the end of November again, dependent on the weather."
A report by strategic director for communities, Alan McKeown, said the already increased bill was to carry out emergency work.
He said: "The original estimate for the required work was received quite some time ago and the condition of the steeple has subsequently deteriorated significantly.
"Scaffolding has had to be erected and emergency health and safety repair works have had to be undertaken, at a cost to date of £12,741.
"The property division is in the process of obtaining quotes to make good all the necessary defective stonework, painting clock faces and the removal of scaffolding. The estimated cost of these works is a further £25,000."
The cash will come from the Montrose common good fund, which is funded by the rents from certain properties in the town.
A council spokesman confirmed the money is already factored in to the £25,000 allocated for remedial works. Committee approval was sought for the unfunded health and safety related expenditure of £7,741.