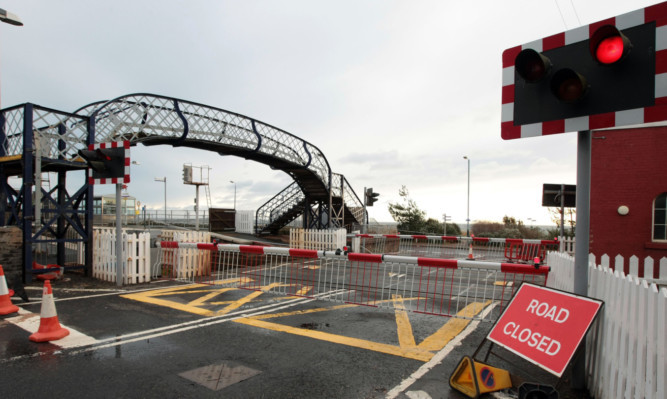 A town square and two railway-spanning road bridges could help connect Carnoustie's shorefront with its High Street.
These were just two suggestions borne out of Carnoustie's week-long charrette, which has been looking at how the town might develop and thrive in the future.
Ideas such as piers, marinas and a cinema reflected just how ambitious people were prepared to be.
Almost 600 people took part in the charrette a consultation programme that gives local people a say in the future of their town.
Organisers received more than 500 comments, suggestions and ideas from those taking part.
Carnoustie was chosen as the focus for the charrette for a number of reasons, not least because the community has been active working together to develop a vision for their town.
A better town centre had already been identified as a key priority.
The charrette was commissioned by Angus Council with support from the Scottish Government, while Carnoustie Community Council and the Carnoustie Development Group collaborated in its development.
Residents joined designers and specialists at workshops and on town walkabouts to help contribute towards a development framework and action plan.
The charrette team was led by Carlogie Limited, which assembled planners, architects and other specialists from Malcolm Fraser Associates, Brunton Design Studio, Fairhurst and NWP.
Residents singled out the railway line for dividing the town centre from its shorefront.
The charrette explored how this could be resolved, with road bridges at Station Road and Brown Street offered as possible solutions.
Talk of a civic space in the heart of Carnoustie is not new, but it was as forceful as ever during the charrette, with the former Kinloch Primary School and Slater's Yard mooted as possible sites.
People felt Carnoustie is a great place to live and raise a family, but that it could be better still stronger socially, environmentally and economically.
Residents wanted the town to be more self-sufficient for employment, services and facilities.
There was ambition to enhance the retail offering to ensure less dependency on other towns, to strengthen and better coordinate the range of community facilities and to build on Carnoustie's draw as a tourist destination.
In presentations to around 100 people this week, the design team described how this could be underpinned by a greater focus on activities being available closer to the High Street, rather than spread throughout the town.
They also said stronger links between the High Street and the seafront would be beneficial.
Steps that could be taken in the short-term included upgrading the seafront rest garden at Ferrier Street/Links Parade, and establishing a "destination" restaurant at the pavilion, which is currently considered surplus to council requirements and about to be put up for sale or lease.
The design team will report their key findings and recommendations back to Angus Council by the end of the month.