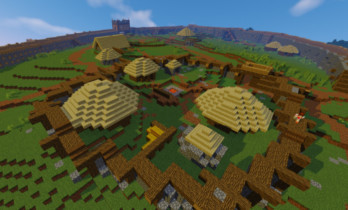 An ambitious project to dig into Scotland's past through hit videogame Minecraft gets out of the blocks today.
More than 100 million people across the world now have access to thousands of years of Scottish history through the Crafting the Past project.
As they explore what builders describe as the most topographically accurate and interactive Minecraft map of Scotland to date, gamers will uncover Roman Forts, travel time to the Victorian era, and excavate long-lost Pictish settlements.
The digital world was designed to encourage exploration of the past as part of Dig It! 2015, a year-long celebration of Scottish archaeology.
And archaeologists have been working alongside gaming experts since the beginning of the project.
Stephen Reid of ImmersiveMinds, which is building the world with a global team of Minecrafters, said: "Many people don't realise that Minecraft can be used as a digital learning platform to engage, enthuse and most importantly, teach learners of all ages in almost any subject.
"Through Crafting the Past, a new and much larger audience now has the opportunity to discover Scotland's stories."
Supported by gaming services company Multiplay and AOC Archaeology Group, numerous digs, monuments and landscapes have already been built and tested.
The twin hillforts of Moncrieffe Hill, south of Perth, took the team at ImmersiveMinds more than four weeks to complete and is the largest "heritage" build they have undertaken to date.
Areas of interest brought to digital life focused on structures that have only recently begun to offer up their secrets to researchers roundhouses, farmland and the defence walls.
There are more than 100 million registered users of the game, in which players build landscapes with pixelated blocks.
Dundee-based 4J Studios works solely on the console versions of the hit game, which has not been out of the top 10 in the charts globally since its launch in 2011.
Last month, hundreds of excited children and their dedicated parents lined the streets of Dundee city centre from 5.20am to secure tickets to see Minecraft "guru" Stampy Cat on November 30.
The first maps are now available todownload for free.