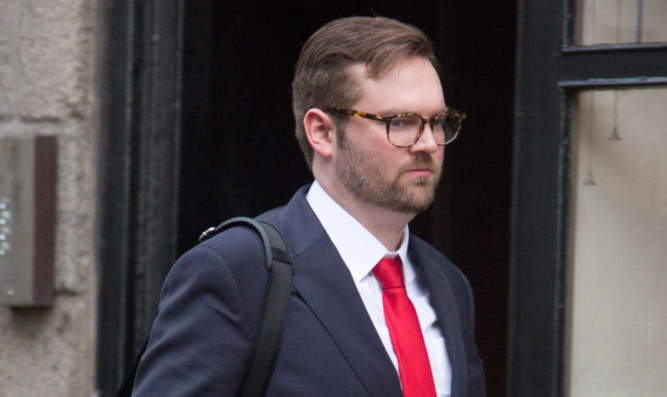 An evil Angus doctor jailed for paying to have young girls strip for him online is to face a professional hearing which could see him struck off.
Kieran Titheridge was sentenced to three years and four months behind bars at the High Court in Aberdeen in February after admitting two offences, one of which saw him pay a mystery woman for Skype strip shows after choosing from a selection of young girls.
Titheridge, who worked at Aberdeen Royal Infirmary, was also caught with indecent images of children when his Aberdeen flat and family home in Arbroath were raided by police investigators.
His perverted actions were said in court to have ruined the 34-year-old medic's career and next week Titheridge will face a Medical Practitioners Tribunal Service fitness to practice hearing before a panel in Manchester.
The hearing has been convened to consider a new case of "impairment by reason of conviction" which will consider the outcome of the High Court proceedings.
If the panel considers that a doctor's fitness to practice is impaired it can imposed a range of sanctions, including erasing the name from the Medical Register to that they can no longer practice.
Registration conditions and suspension are also available sanctions.
Titheridge will also be supervised by the authorities for two years when he is released from jail, but escaped an additional period of imprisonment when he appeared in court after the initial conviction and admitted a "technical" breach of bail by accessing google maps on his mobile phone.
The index offence saw Titheridge make four payments to the unidentified woman over a two-month period between October 2012 and November 2103.
He was caught after detectives were told he had sent money through PayPal to an email account which investigating officers believed was linked to the woman who arranged the abuse.
Messages sent through Skype revealed Titheridge had engaged in several conversations with a foreign woman.
In one conversation the medic asked: "Are the young girls awake?"
Titheridge's advocate said the doctor has begun looking at adult pornography but a curiosity led to the lines becoming "somewhat blurred" and he got involved in browsing indecent images of children.
He said the medic's career had been "left in ruins" by the offences.