 A Forfar drug addict who forced her way into a terrified stranger's home on the pretence of needing money to visit her dying dad has been jailed for six months.
The 20-year-old woman was one of two victims Christina Towns approached for cash to feed her heroin habit after the withdrawal of prescribed methadone and diazepam sent her into a downward spiral following five years out of trouble.
Police who went in search of 29-year-old Towns following last September's offences actually found the accused's father was at home in Forfar and a sheriff said the nature of the offences and her formidable record meant a jail sentence was the only option.
Towns, of Lordburn Place in Forfar, admitted charges of behaving in a threatening manner towards the occupants of properties in South Street and Lordburn Place on separate dates last September, seizing one woman and causing her to hand money over, and demanding money from another.
She also admitted possessing cannabis and, on October 19 last year, stealing a jumper from Turret, Castle Street, Forfar, and possessing heroin, while on bail.
Fiscal depute Hannah Kennedy said the first incident, on September 23, involved a 20-year-old stranger who was home alone when Towns knocked on her door around 8pm.
"The accused introduced herself as Sarah. She started to cry and claimed her father was in intensive care and she needed money to go and see him," the fiscal added.
Because the frightened woman was on her own, she went upstairs to get £10 to get rid of Towns but came back to discover the accused had entered the house.
Towns then said she was pregnant and demanded to go to the toilet.
The householder panicked and ran back upstairs to phone her boyfriend, before being seized on the wrists by Towns and led into the kitchen of the house where the accused repeatedly demanded cash.
The victim's boyfriend then arrived and it was at that point Towns left the house.
The fiscal said the second incident happened a few days later when Towns knocked on a neighbour's door.
"The ruse was that the accused had a form to give her. The complainer is reluctant to open the door, but she opens it slightly and the accused barges through, straight into the living room demanding money."
Towns used the same excuse of needing money to get to Dundee to see her father and a few days later called again at the same property but was refused entry.
Defence solicitor Bob Bruce said Towns' last conviction was five years ago, but the offences coincided with being cut off from a methadone and diazepam prescription, which she found "very difficult."
"Her drug use was chaotic at the time of these offences," he added.
"Prior to five years ago she was no stranger to the courts and these matters are far from trifling, but she has complied with supervised bail for the last four months.
"These matters can maybe be seen as a reaction to being cut off from her prescription," said Mr Bruce.
Sheriff Valerie Johnston told Towns: "Even with the gap in your offending you have a very bad record and these two offences, when you entered people's houses, are significant.
"The only appropriate way of dealing with them is a sentence of imprisonment."
The sheriff deferred sentence on the theft and heroin possession charges until July 24.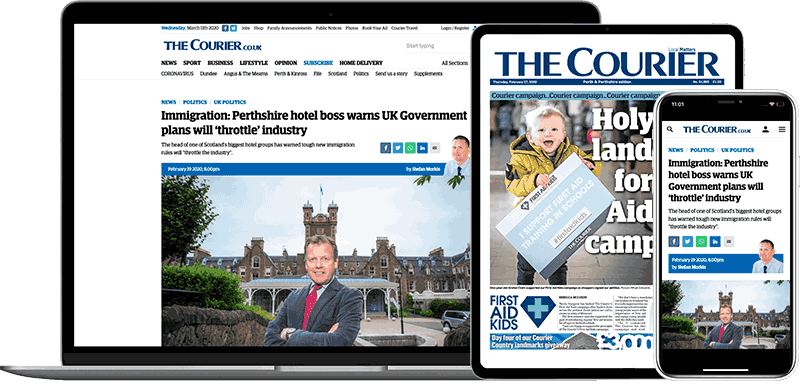 Help support quality local journalism … become a digital subscriber to The Courier
For as little as £5.99 a month you can access all of our content, including Premium articles.
Subscribe