The owner of an A-listed Angus castle has gone to the Court of Session over a controversial windfarm.
Balintore Castle was built in 1860 at the behest of MP David Lyon, to a design by celebrated Scottish architect William Burn.
The baronial-style edifice fell into disrepair in the 1960s but is slowly beginning to resemble its former self under the aegis of Dr David Johnston, who has described the castle's restoration as his life's work.
But Dr Johnston has launched a potentially costly appeal against the Scottish Government's decision to allow two wind turbines at nearby Carrach Hill, in the belief it will ruin views, including those from a belvedere, or grand viewing platform.
He has tabled a question in law as to whether government reporter Dan Jackman was negligent in failing to gather evidence during his site visit, highlighted by a previous reporter.
Dr Johnston describes the castle as Burn's "baronial tour de force" and has received assistance from Angus Council to make the restoration possible.
He said: "The government reporter did not attempt to visit the viewing platform at the top of the great tower of Balintore Castle, which looks directly at the windfarm development site.
"Neither did the government reporter attempt to visit the principal rooms of the castle or the principal bedrooms which feature bay windows, which again look directly at the windfarm development.
"Indeed, the reporter's document makes no reference whatsoever to any evidence gathered during a site visit.
"The previous government reporter, Richard Hickman, did visit the viewing platform and the interior of Balintore Castle, and it is noteworthy he came to the opposite conclusion stressing the importance of the views from the castle."
Mr Hickman stated: "I also agree that given the effort that is going into the restoration of the building, and the public interest in completing the restoration of this listed building, it is important to ensure the success of the restoration project is not undermined by harmful changes to the building's wider setting."
The castle, above the hamlet of Balintore near Kirriemuir, has been listed in the Buildings at Risk Register for Scotland since it started in 1990 and was briefly owned by Angus Council before it was sold on to Dr Johnston.
The Carrach development near Kingoldrum was refused by the local authority last year but Scottish Government reporter Dan Jackman overrode this to allow the turbines, albeit with 19 conditions.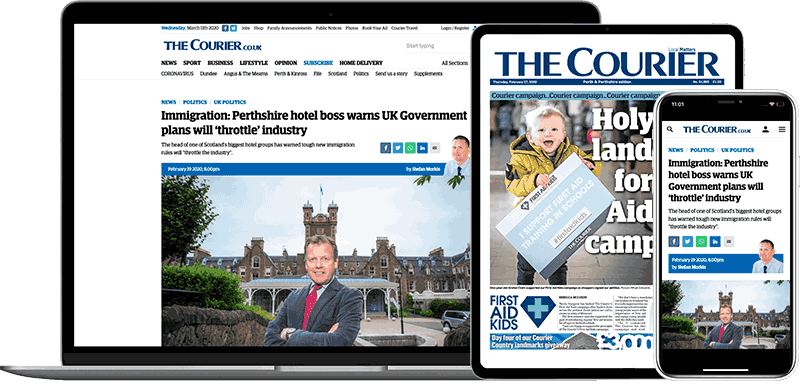 Help support quality local journalism … become a digital subscriber to The Courier
For as little as £5.99 a month you can access all of our content, including Premium articles.
Subscribe