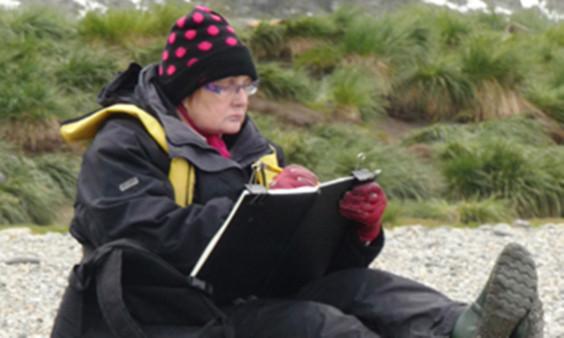 When Libby Jones was invited by Bank Street Gallery owner Susie Clark to exhibit at her gallery in Kirriemuir, she became intrigued by the history of the town.
As well as Kirriemuir's most famous son and Peter Pan author JM Barrie, she discovered the town had also been home for a time to AC/DC singer Bon Scott, Victorian mountaineer Hugh Munro, and 19th century writer Violet Jacob.
She found the town had been a hotbed of witchcraft in the 16th century and is also world famous for its gingerbread and decided to combine all these elements. Ms Jones went on to craft a boxed set of prints, which also doubles as a card game.
She said: "This tongue-in-cheek edition of 10 boxes, of 20 cards per box, features Kirriemuir characters presented on a slice of gingerbread on a plate. I have also made a poster featuring all the 10 characters in the game."
Visitors can see images of Edinburgh Castle with fireworks, wildlife such as gannets, and artwork made after a visit to Antarctica.
Londoner and master printmaker Ms Jones exhibited work from her sub-zero stay at a Discovery Point exhibition in Dundee last year.
Children can see her work Cooking the Climate, a comment on global warming, which consists of a microwave oven and slideshow with rotating polar animals.
There is also a fossilised mobile phone in a second installation, Fossils of the Anthropocene an exploration of the traces that might remain of civilisation in 50 million years' time.
She is also exhibiting a selection of her woodcuts, linocuts, collagraphs and screenprints at the gallery.
The exhibition runs until November 8 and opening hours can be found on www.bankstreetgallery.org, or by telephoning 01575 570070.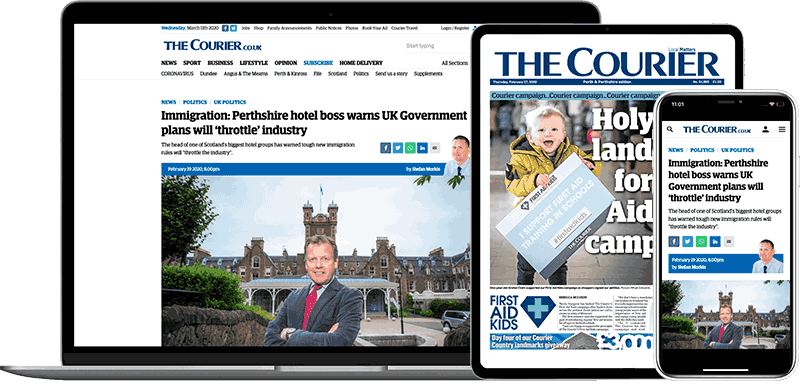 Help support quality local journalism … become a digital subscriber to The Courier
For as little as £5.99 a month you can access all of our content, including Premium articles.
Subscribe