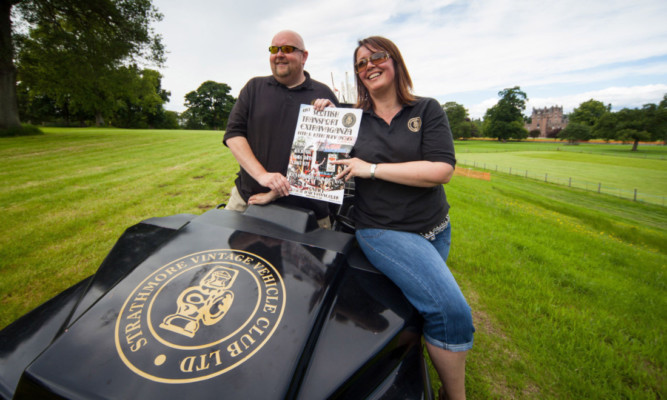 Scottish Transport Extravaganza organisers are ready to open the gates for another packed event which will see Glamis Castle become the hub of the nation's vintage car world this weekend.
Every form of transport from every era will be represented at the two-day spectacle and the good news for enthusiasts and visitors is that despite it being the 41st Extravaganza those behind the programme say it is showing not the slightest hint of running out of steam.
The Strathmore Vintage Vehicle Club event quickly established itself as one of the major summer events on the automotive calendar and it has solidly retained its position as the premier Scottish vintage gathering and one of the largest of its kind in Britain.
Planning for the next Extravaganza starts as soon as the curtain comes down on each event and SVVC administrator Lesley Munro said things are set for a bumper weekend.
"We have 1,397 people entered and that will bring together a line-up which comprises veteran, vintage and classic vehicles and machinery," said Lesley.The entry features cars, commercials, military, tractors, steam engines, motor cycles, static engines and other exhibits including bikes.
The exhibits cover a period stretching from 1890 to 1975.
Another major attraction is the array of stunning machinery created by more than 40 car clubs who attend the event, covering a wide range of marques and specialist interests.
"We are completely packed out with car clubs again this year," added Lesley.
"We actually had to turn people away before the closing date this year because the entry list was so full.
"Obviously that's disappointing for us because we would just love to have everyone at Glamis, but it still means that the entry is at its limit and that will give visitors a huge amount to see."
The Glamis Castle show field will also be home to 150 stands including autojumble, motor trade, antiques and fundraising stalls.
Lesley added: "In the ring to entertain this year we will have the MSI Wolfs Stunt Show and each day there will also be the usual variety of parades and pipe bands."
Saturday also has the now traditional fixture of a companion dog show in aid of Dogue De Bordeaux Welfare.
And while that is happening, many of the entrants who travel hundreds of miles to get to Glamis will take the opportunity to put a few more on the speedo in the traditional regularity run around Angus.
Photo by Angus Pictures