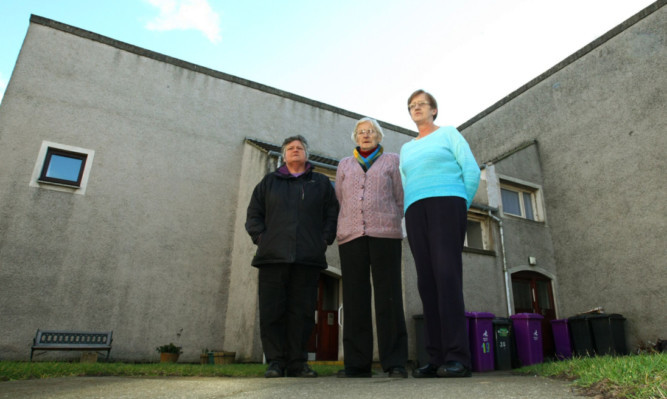 Elderly residents in Forfar plagued by phone problems since January have been warned a fix requires major work.
The east end problems have led to fears some vulnerable pensioners are without their only "lifeline" in the event of an emergency.
But it has now emerged a near 100-metre stretch of heavy cable requires to be fixed to remedy the issue.
BT is now trying to work with council chiefs in an attempt to short circuit the statutory processes which could delay the urgent repair for weeks.
Charity campaigner Wilma Whyte took up the case of friends in the Nursery Street, Priory Court and Arbroath Road areas after learning that some had been experiencing dodgy lines since January.
"I tried phoning one lady I know countless times and the phone was completely dead. When I went down to see if she was OK she told me the problems had been going on for weeks," said Wilma.
"She's got the community alarm but if her phone's not working then what is going to happen if she falls in the middle of the night and can't contact anyone?
"This is the most serious time of the year for the elderly and a lot of them don't have anyone to shout out for them, but their phone might be the only way they can reach their family or someone who will come to help."
Wilma added: "I think some folk have been offered a mobile phone on a temporary basis but that would prove even more confusing for someone in their eighties who has never had one before."
Forfar councillor Lynne Devine has already raised the issue with MSP Nigel Don as moves to try to speed up the repair process were confirmed by BT.
Councillor Devine said: "There have been other complaints. These are elderly people and they are very vulnerable.
"The phone is a lifeline for them to get in contact if something happens."
A BT Scotland spokesperson said: "Underground cable damage is affecting a number of phone lines in the Nursery Street, Priory Court and Arbroath Road area of Forfar.
"Four-way traffic lights were required to allow engineers safe access to the affected underground junction box located in a manhole, and these were subject to a 28-day statutory notice period.
"The street works were approved for March 6 but unfortunately, after gaining access, engineers discovered that the damage was not limited to the junction box.
"They now need to replace a 95-metre stretch of heavy cable between two manholes and further roadworks are required to let engineers work safely on these repairs."
The spokesperson added: "Planners are liaising with the local authority to secure the relevant statutory permissions.
"We're sorry for the ongoing disruption to local services.
"Anyone who is experiencing difficulties should report a fault to their service provider, if they have not already done so, who will liaise with Openreach on their behalf and may also be able to help with practical measures such as line diverts to alternative numbers."
Mrs Devine added: "It doesn't look as if there will be a quick fix but if practical help is being offered then I would encourage people to take that up."