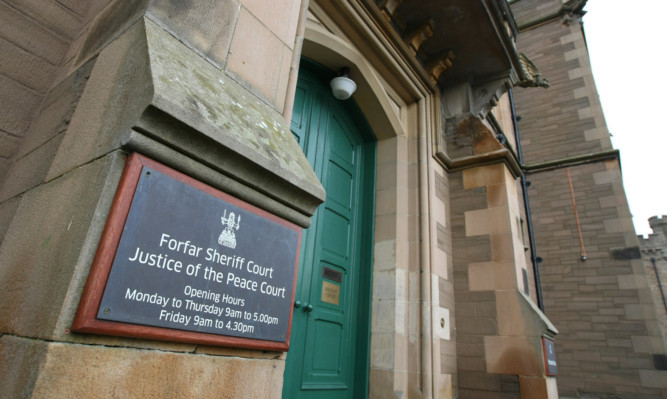 An Angus man who took the leash off his dog before whipping a publican with it has been jailed for seven months.
John Galloway removed the leash from his Staffordshire bull terrier and took it to James Cowie outside his Arbroath pub after he was denied entry.
The 30-year-old appeared from custody at Forfar, where the court heard he committed the offence a month after being given a "big chance" to improve his behaviour in Dundee.
Galloway, of Newbigging Drive, admitted assaulting James Cowie outside the Bowlers Lounge on October 11 and resisting arrest five days later.
Depute fiscal Jill Drummond said the owner and his business partner were outside the pub around 6.30pm having a cigarette when they saw the accused and his dog approach.
"He attempted to get into the bar, and was informed he was not allowed in," she said. "He challenged witness Cowie to a stand-up fight.
"The accused swung at Mr Cowie, and a scuffle broke out between the two.
"Witnesses said they saw something fall from the accused's clothing it transpired to be a paint scraper."
After the scuffle ended, Galloway walked towards a park while Mr Cowie remained outside and his partner and another witness went back in to the pub.
Ms Drummond added: "The accused returned and hit witness Cowie with a dog lead, causing him to be scratched, and tried to hit him a second time."
Galloway fled and police traced him on October 16.
He struggled with arresting officers before telling them: "The guy assaulted me. I had to take the lead to him."
Defending Galloway, Billy Rennie said his client had been on remand since October 19.
He said Mr Cowie had not declared himself to be the publican when Galloway approached.
"The start of this is Mr Cowie saying 'we don't allow junkies in here'," he added.
"Mr Galloway tried to explain his father drinks in there and it's his position that he was pushed away.
"His record is clearly not good, but this is not his usual conduct most of (his offences) are of dishonesty because of drug difficulties."
Mr Rennie said his client had been given a community payback order (CPO) at Dundee a brief time before the offence.
Sentencing Galloway to seven months in prison, backdated to October 19, Sheriff Gregor Murray said he had "an appalling record".
He added: "You had your big chance in Dundee. You were given a CPO in September.
"A month later you did this. You brought this on yourself."
Mr Cowie was unavailable for comment.