The sale of Scotland's first purpose-built asylum could be wrapped up within a matter of weeks.
Sunnyside Hospital in Hillside closed in 2011 after serving as a mental health centre in rural Angus for 153 years.
Notable patients included Arthur Conan Doyle's father and outsider artist Adam Christie.
Landowner NHS Tayside has now placed the property and its surroundings up for sale through agents Ballantynes of Edinburgh.
The firm has said it has already had a "favourable interest" and hopes to complete inquiries in six to eight weeks.
The firm's partner Rory Ballantyne told The Courier: "Unfortunately we can't give a price because there are a number of uses for the site.
"Ideally it would be bought by one developer because that would keep the integrity of the site.
"But NHS Tayside has done a great deal of groundwork before putting it up for sale it's not just a matter of moving out and putting it on the market.
"We've already had a favourable response from parties and we're taking that forward.
"We'd be looking at a short date for marketing, maybe six to eight weeks."
Consultant Simpson & Brown said the main building and hospital block represent "some of the finest hospital architecture in Scotland" but a number of buildings "are now at risk".
Ballantynes' brochure states: "Covering an approximate total of 26 hectares (64.2 acres) the site consists of a mixture of large period buildings that encompassed the original facilities, a mixture of more modern buildings providing ancillary services and open space including the tree lined playing fields and orchard."
A spokeswoman for the health board said: "Following the transfer of services from Sunnyside Royal Hospital to the new £20 million Susan Carnegie Centre at Stracathro in 2011, the former Sunnyside site was declared surplus and has now been put on the market."
The health body recently applied for listed building consent to demolish the hospital's former chapel and Angus House building, along with outbuildings and the nearby Laurel Cottage.
Local councillor David May previously said the massive buildings will be a challenge to redevelop.
But be believes something must be done to avoid a fate like Strathmartine Hospital, which has fallen prey to vandals and fireraisers since it closed in 2003.
"It would be great news if a developer with grand design vision takes it on and saves some wonderful buildings," he said.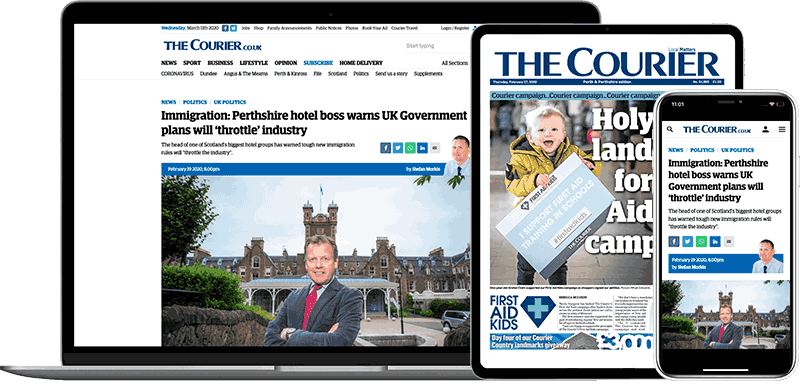 Help support quality local journalism … become a digital subscriber to The Courier
For as little as £5.99 a month you can access all of our content, including Premium articles.
Subscribe