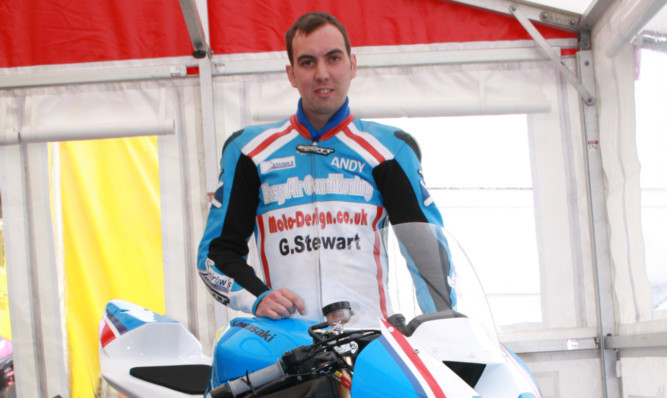 Tribute is being paid to Angus motorbike racer Andy Lawson at the scene of his greatest triumph.
A year ago, the Arbroath star powered to victory in the prestigious Junior Manx Grand Prix over the twisting 37-mile Mountain course which also stages the world-famous Isle of Man TT.
Tragically, a shadow has been cast over the 2015 paddock following the Angus 25-year-old's death in a racing accident at the Ulster Grand Prix earlier this month.
Just a couple of months after surviving a high-speed TT crash, the dad-of-two suffered fatal injuries while competing in the Supersport race of the event over the Dundrod circuit in County Antrim.
The young engineer's death was keenly felt throughout his home town community and the sport of road racing, with hundreds of bikers joining a cavalcade which accompanied his body on its final journey to Angus.
The Team Moto Design Suzuki on which Andy secured his 12-second victory in the Junior Manx last year is racing again this year and team boss Jon Richards has ensured the young Scot will be proudly remembered with his name prominently positioned in the team awning as the outfit looks to honour the Angus rider with a strong performance in the event.
Andy's 2014 victory, with a top average lap speed of around 118 miles per hour, fulfilled the promise he had shown with a third place finish at the race in 2013.
He was widely regarded as one of the top prospects in road racing and leading figures within the sport who joined the many tributes paid in the wake of his tragic death said they were confident he would have attracted manufacturer interest in the future.
Long-time friend and sponsor George Stewart said: "It will be a difficult time for those at the Manx GP who knew Andy and thought so highly of him.
"Jon Richards travelled from Cheshire for Andy's funeral and both the bikes he rode for him last year, including the one on which he won the Junior Manx, are back there with Andy's name there on the team awning in memory of a great guy."
The busy Isle of Man programme is already under way, with the Junior MGP scheduled for Wednesday September 2.