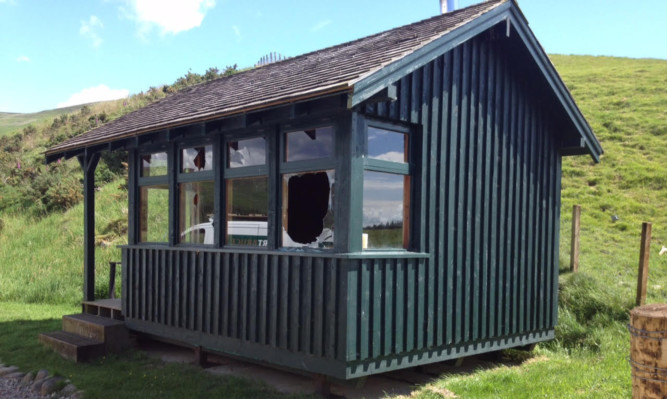 Vandals have carried out a devastating rampage in the Angus glens.
They caused thousands of pounds of damage to property, terrified an elderly couple after throwing eggs at their home and stole charity cash.
A reward to track down the culprits has now been offered by Gannochy Estate after the Glen Esk incident on Sunday night and they hope a vehicle description may hold a vital key in the hunt.
The vandals also stole a car from a glens house but abandoned it hundreds of yards away after pushing it down a banking towards a river.
Lianne MacLennan, co-ordinator of the Angus Glens Moorland Group said the community had been shocked by the events, which happened between 10pm on Sunday night and into the early hours of Monday morning.
The vandals stole eggs from a roadside wooden contained as well as a cash tin for the Healing Hands charity.
They then threw the eggs at the nearby home of an elderly couple, leaving them "extremely scared".
"The last stop for the vandals was Gannochy estate's fishing lunch hut, which is not visible from the road and would have needed an off road vehicle to get to, where they continued to throw eggs and then stones at the windows," said Lianne.
"Six windows of the fishing hut were broken and it's estimated that the damage will cost the estate around £2000 to fix.
"I am really shocked at this disgraceful attack vandals have made to properties in the glen.
"Living in such a small rural community you don't expect things like this to happen.
"It is really awful that people could steal from the charity egg box, it is clearly written that the money is going to charity on the wooden container but the culprits stole both the eggs and the donations already collected.
"It is horrible to think how scared the elderly couple must have been when their house was being pelted with eggs at that time of night.
The group believes those responsible were in a green Land Rover Discovery with two massive spotlights that sit low on the grill and last three letters of the vehicle registration is LAP.
Anyone with information should contact the Police on 101.
For more on this story pick up a copy of Thursday's Courier.