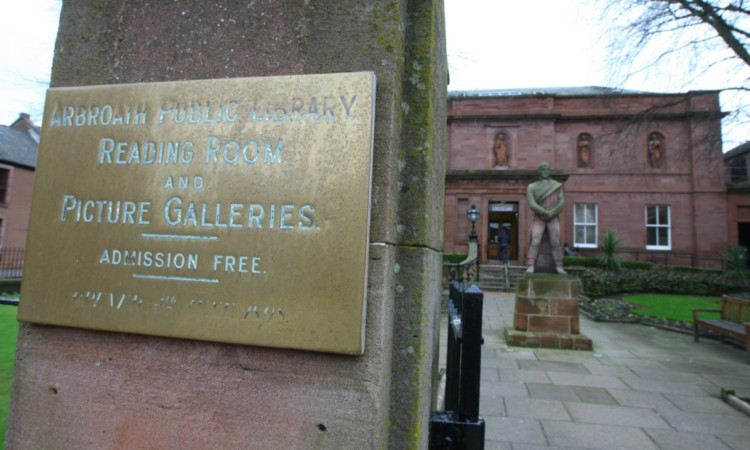 Arbroath Library campaigners have won their two-year fight to keep the historic building on the town's common good.
In the wake of what was described by one councillor as "an outbreak of common sense", members voted overwhelmingly to reject the advice of legal experts and stop David Corsar's gift to the town being moved to the authority's general fund.
The 18-9 outcome of the full council debate followed astonishing scenes earlier this year when opponents of the move, powerless to stop the transfer motion being passed under the rules of the council, subsequently recorded their dissent in numbers against the decision.
Campaigner Bob Spink has been frustrated in his attempts to have the issue debated after previous attempts to put forward a motion over the Hill Terrace building were ruled incompetent. However, following top-level meetings involving Angus Provost Helen Oswald and council leader Iain Gaul, an acceptable form of wording was agreed and Mr Spink's proposal was carried.
The victory has come at a cost, with Montrose councillor Bill Duff calling for an end to the burgh common good funds he described as a "medieval anachronism".
The authority is now also to take the matter to the Scottish parliament's petitions committee, using the Arbroath case as a basis for a call to ensure that any asset regarded and managed as common good for more than 50 years without successful legal challenge should remain as common good.
Mr Spink said: "The last meeting on this issue saw a blast of democracy flow through this council.
"Arbroath library has lain uncontested on the Arbroath common good for 115 years. The concept of common good is misrepresented, usually by those who do not have common good.
"We have had many generous benefactors over the centuries and we should support their memory and heritage by supporting the amendment to retain Arbroath library on the common good."
Mr Duff's different view on the value of common good funds looks certain to keep the debate going, however.
He said: "What we're talking about is an accounting exercise it's not corporate theft we're simply moving the library to the same column in the accounts as other facilities in Arbroath.
"When you go and get an expert opinion you should take it, not say that you would like another expert opinion just because you don't like the one you have already been given, and I am surprised how much time, effort, angst and money Angus Council has spent on this issue."
"Whatever decision we take, we will still have common good funds and I believe they are a medieval anachronism.
"They survive as a relic of the bad old days and communities without common good funds are essentially subsidising those that do have them. They are financial basket cases."
Mr Gaul said: "What we must decide is whether we are going to go against case law and legal opinion upon legal opinion.
"One of the good things to come out of this is that we spoke to each other wouldn't it have been better if we had done that before we set out on this journey?"