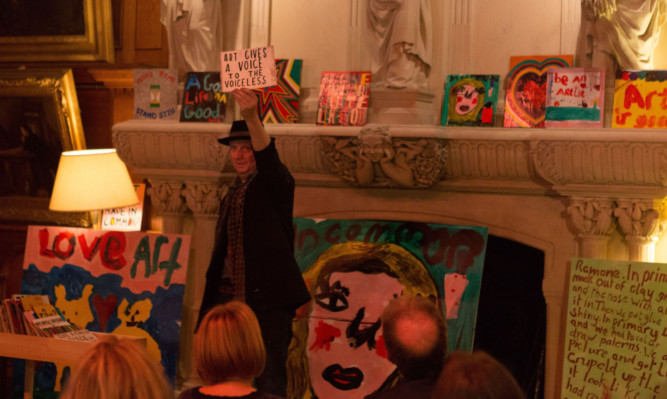 In the footsteps of the Declaration of Arbroath, Helen Brown looks at a declaration of artistic intent that takes the Angus town as its inspiration.
Long known as a centre of creative excellence and inspiration to artists across the spectrum, Hospitalfield in Arbroath is having an interesting time of it.
Not only is its imaginative and far-reaching programme of artists' residencies and commissions and public events being supported for the first time, over a three-year period, by Creative Scotland but Hospitalfield is also curating the Scottish Pavilion at the internationally prestigious Venice Biennale. That, in the art world, is a seriously big gig.
Closer to home, the current spring season reaches a climax next weekend with one of the organisation's regular Open Weekends, from March 27-29, where the public will be able to see and experience the results of a long-term project with a strong local springboard.
The Arbroath Template was devised by artist Bob and Roberta Smith. Those two names belong to one person, the pseudonym for Patrick Brill, contemporary artist, musician, activist and passionate advocate of the importance of the arts in our wider democratic society. So convinced is he of this and so incensed by what he sees as the erosion of that role by government, that he is standing against former education secretary Michael Gove in the coming election.
Renowned for his humorous, highly opinionated and often polemical artworks, frequently using verbal slogans and striking colours, he is regarded as an outsider who nevertheless has the respect of the art establishment as a trustee of the Tate, a trustee for the National Campaign for the Arts and a recently elected Royal Academician.
The Arbroath Template was his brainchild, inspired by the notion of innovation in education. It invited artists, students, school pupils and museum visitors to take a basic 30 x 30cm square template shape and create within it a range of inspiring images. Each can say anything its creator wants it to, visually or verbally.
* See more at arbroathtemplate.tumblr.com and www.hospitalfield.org.uk
Contributions so far, numbering into the dozens, cover everything from primary school pupils' paintings and collages to posters, banners, videos and collaborative musical floor drawings.
Makers have posted their work on Instagram and there is an Arbroath Template tumblr site where artists can upload their work so that people can not only make art but share it, transcribe or react to it and see how others are using the templates in homes and galleries around the world. It's intended that this can become an inspirational resource of imagery.
Bob explained: "Simply put, people can load an image and others can make a copy of it. The concept is driven by Instagram it's a way of visual communication that is both modern, using social media to distribute ideas, and ancient, involving the artist's skill at both invention and transcription."
Alongside Bob and 20 professional artists, students from Duncan of Jordanstone College of Art and Design in Dundee and the Sir John Cass Faculty of Art, Architecture and Design in London are also participating.
The Laing Art Gallery in Tyneside involved a group of young people in making Arbroath Templates in their museum and three local schools in Angus have brought the project within walking distance of Hospitalfield itself Timmergreens and Muirfield primaries and Arbroath High.
Programme manager at Hospitalfield, Laura Simpson, explained: "Our director, Lucy Byatt and I wanted to invite artists to take part in a project where they would have a longer period than our usual residencies or weekends to get under the skin of Arbroath, interacting with the people and the story of the place.
"We knew Bob and Roberta Smith's work and his belief that art education makes a difference fitted with Hospitalfield's ethos it was left in trust to support artists and art education.
"We started last September, meeting teachers in the area, doing workshops and getting artists to activate projects.
"Bob and Robert Smith is always looking to bring people together and to start conversations about making art and what it should be.
"It could have been all about him but he wanted to invite other artists to contribute, as well as the next generations of possible artists and members of the public."
And as for Arbroath itself, the small Angus town is at the heart of the project in more ways than one.
Bob added: "I saw the painting of the Arbroath Declaration in the train station and what interested me was how the location give authenticity to the declaration we need to know the context to understand the full meaning.
"My use of the name Arbroath in the template is both to celebrate the town but also to question where ideas come from.
"The project is a big campaign so in that way, it's using the same strategies as my project to run as an MP. It's also about the importance of art it's not a divisive political effort.
"I think everyone has cultural ambitions for their children. You look at a baby and you rarely think: 'One day, this child will be a brilliant accountant.' Most people like to think their kid will play the violin or be a great singer or even dare I say it? an artist!
"We have had a great response both digitally and in person at template-making days. I hope that in 10 years' time, we will be celebrating the Arbroath Template National Day with trumpets and fanfares!"
* The Open Weekend will include meet the artist sessions, heritage tours and workshop events and the Sunday has been designated National Arbroath Template Day, including live painting with Bob and Roberta Smith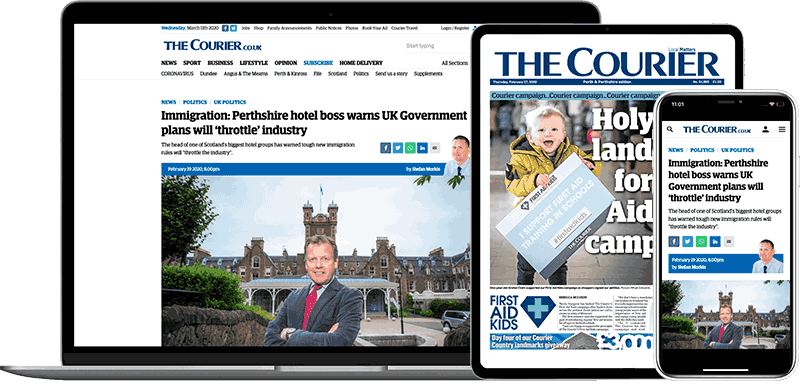 Help support quality local journalism … become a digital subscriber to The Courier
For as little as £5.99 a month you can access all of our content, including Premium articles.
Subscribe