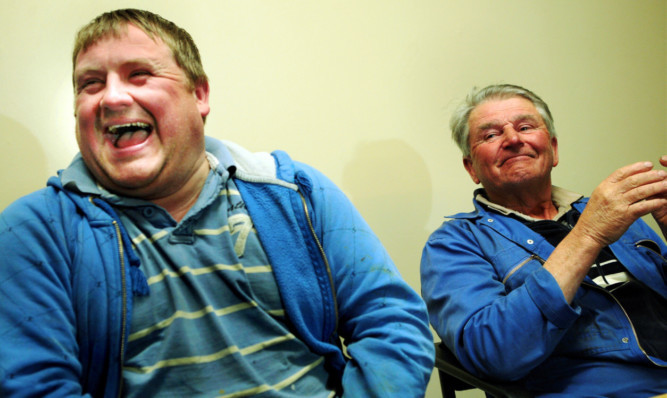 A Mearns fishing family who were lost in fog for two days have presented a plaque to the trawler crew who saved them.
Jim Reid and his grandson David Irvine set off from Gourdon and became lost for almost three days when their compass failed last year.
They were found by a passing tanker 46 miles off course and 50 miles out in the North Sea well outside the search zone by Buckie scallop boat The Sylvia Bowers.
The men had survived on a bottle of water and two biscuits.
A huge land and sea search was launched after the men got lost off their home port in May.
On their return, the delighted men said the search efforts of the area's fishing community and the emergency services were "unreal" and thanked all those involved.
They have been part of various fundraising ventures which have raised a five-figure sum for the RNLI and local groups, and have now thanked the scallop boat's crew for their efforts.
Skipper James Spencer said: "It was a million to one chance that we stumbled across them.
"We've put the plaque up in the wheelhouse."
Jim, 76, proceeded to buy another boat following the incident with a bit more room on board than the ill-fated Water Rail called the Sarah Louise.
"We have been back out fishing on it and it's much like the old boat but with an outboard motor," said David, 36.
The men sailed out early on Tuesday, May 20 from Gourdon Harbour but were reported missing at midday after the 16ft Water Rail failed to return to shore.
A massive air and sea search and rescue mission was launched to find the men but their faulty compass had taken them 46 miles off course and out to sea.
They were saved 50 miles off the Angus coast on the Thursday morning and were reunited with their families after being brought ashore by the Montrose lifeboat crew.