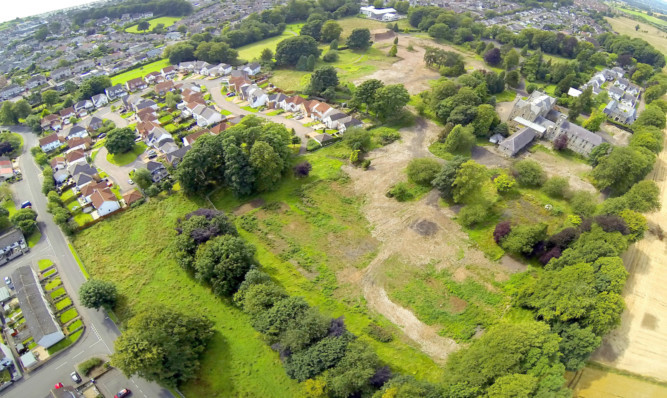 An application for 167 homes on the site of a former Angus hospital was approved, despite overcrowding concerns.
Councillors gave the development at Ashludie Hospital in Monifieth the green light, subject to conditions, at a meeting in Forfar.
The application was recommended for approval but concerns were raised that the proposed homes would be "crammed on a relatively small area".
Resident Nancy Robertson addressed the development standards committee and said Monifieth does not have the infrastructure to support such a large development.
She said she was generally in support of the development of the site but thinks a vastly scaled-down development would be more appropriate.
Mrs Robertson, who lives at the Stables development nearby, said the Ashludie site had been recommended for 50 up to 75 homes so that it could be "sympathetically developed".
She said the present application by Miller Homes is "unrecognisable" from the original intent and the number of properties was "a big concern".
"We went from 50 to 75 to 130 and now it's 167 basically houses crammed on a relatively small area," she said.
The high volume of additional people would impact on the town's schools, medical practice and roads, she added.
Mrs Robertson also raised concerns about future drainage problems and parking spaces being so close to the Stables properties.
The proposal was for 121 houses within the grounds, the construction of 34 flats and the conversion of the B-listed main building into 11 flats.
The developers bought the mansion house and grounds from NHS Tayside, which closed the hospital in 2013 after declaring it surplus to requirements.
Development standards convener Rob Murray moved for approval of the proposal and said the site could be a target for vandals if left derelict.
"I feel this application provides us with the opportunity to develop this site and to ensure these sorts of problems that have occurred at other abandoned medical facilities does not happen."
Councillor David Fairweather said he was not against the plan but was uneasy about approving it after finding out the Stables was a listed property.
He said impacting on a listed property would be a breach of legislation.
Councillor Craig Fotheringham said he was also not happy with parking spaces being so close to a listed building.
Councillor Alex King suggested the conditions of approval be amended to demand satisfactory screening between the parking spaces and The Stables.
He said the solution could be a 6ft or 7ft high fence or wall with some planting in front of it to soften the whole area.
Mr Fairweather and Mr Fotheringham said they would be satisfied with that.
The application was then approved.