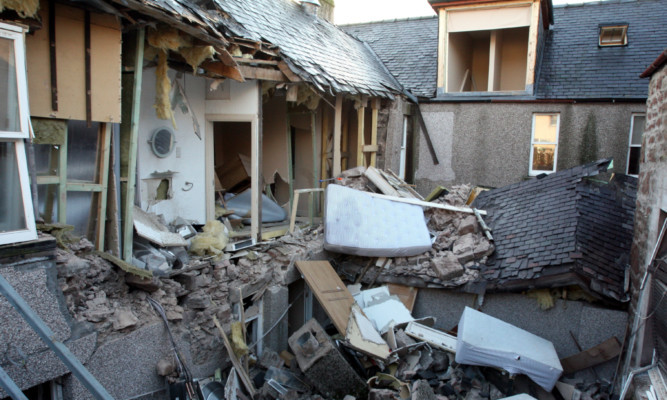 A plan has been lodged to rebuild an Aberdeenshire village pub destroyed in a gas explosion more than six years ago.
The Drumtochy Arms in Auchenblae was close to reopening following a major refurbishment when the blast happened on January 7 2009, leaving three people seriously injured.
The incident led to a kitchen-fitting firm being fined £7,500 for breaching health and safety rules after what experts described as an "entirely avoidable incident."
The severity of the damage led to the demolition of the building, and although consent for a replacement was granted the now-lapsed permission was never taken up.
Now owner Charles Anderson has submitted fresh plans to rebuild the hotel, restaurant and bar on the cleared site.
The proposal, which will go before Aberdeenshire councillors, involves the creation of a pub with a games room, restaurant, garden area, lounge, function suite and eight bedrooms.
An empty adjacent butcher's shop would become a food preparation and storage area, including a food takeaway, and a bothy would be turned into a manager's flat.
Susie Brown, who represents Auchenblae for Mearns Community Council, said the new bid was welcome.
"I think the village needs it. I can't see there will be a lot of objections in this instance," she added.
"I think that will be very much praised by the village and I think it will be very welcome on the original site.
"It will be the only pub in the village."
A spokeswoman for Mr Anderson's agents, Angus-based architects AB Roger and Young Ltd, said: "Our client proposes a new purpose-built hotel on the site of the former Drumtochty Arms Hotel which was destroyed in a gas explosion in 2009.
"As this application is for a replacement hotel which was previously approved in 2009 and has since lapsed we feel this reapplication should also be approved as a welcome addition to the high street of Auchenblae and allow a derelict site to be regenerated and enhance the village square."