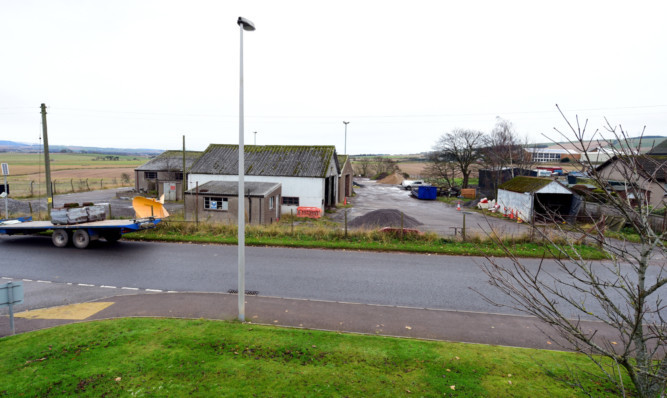 Laurencekirk's council depot has emerged as the preferred option for a Travellers site in south Aberdeenshire.
The Fordoun Road site will this week be highlighted as one of two locations which Aberdeenshire Council hopes to develop to ease the shortage of available pitches for the Gypsy/Traveller community.
But a £500,000 price tag has been attached to creating the 10-pitch, fully-serviced site.
Minority ethnic communities officer Moyra Stephen will deliver a report to the council's Gypsy/Traveller sub- committee after a decision earlier this year to formulate a future provision strategy.
Land at Old Deer has been identified as a preferred stopover site for the north of the region and although four sites have also been identified under the council's current development plan, those are unlikely to be developed in the short term.
The report states: "The central location of the site at Laurencekirk, coupled with the level of amenities already provided on site (access to fresh water, electricity and drainage) makes the site an ideal opportunity to develop a fully-serviced site with wash blocks.
"The site scores well using the scoring matrix and is therefore the recommended site for south Aberdeenshire."
The document details consultations already carried out with the Gypsy/ Traveller community as well as citizens' panel feedback, which revealed a view among residents that there should be more site provision in Aberdeenshire.
But the paper also reveals there may already be a six-figure funding gap to close before any development of the Mearns site.
Officials estimated the cost of a fully-service site in Laurencekirk at £560,000, while the stopover site in the north of the council area will be around £350,000.
"A budget of £126,000 has been set aside in the capital plan for the development of a Gypsy/Traveller site in Aberdeenshire," states Ms Stephen.
Laurencekirk Development Trust chairman Mike Robson said: "These people have to go somewhere and I am now realising they move in family groups.
"I know a number of people who are of the travelling community and I have no problems with them at all."
Aberdeenshire Council is still embroiled in an enforcement battle over the illegal North Esk Park Travellers' site, close to the border with Angus, which was created without permission on land near St Cyrus in September 2013.