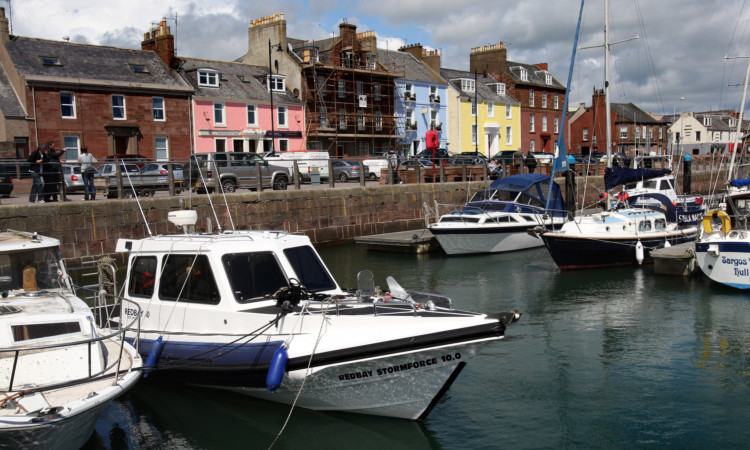 A leading Arbroath figure has continued the fightback against suggestions that the coastal community is an underperforming burgh on the back foot.
After a Scottish Government think-tank last week spotlighted the historic burgh as one of half a dozen "vulnerable" Scots towns struggling against a tide of charity and discount shops on its High Street and with frayed and ageing buildings threatening its small town status, Independent councillor Bob Spink had accused the report's author of taking a "glass half empty" view of Arboath.
Findings of the Built Environment Forum Scotland (BEFS) health check of a string of once prosperous Scottish towns were revealed amid a call from the influential group and its chairman Cliff Hague for a national small town policy to save an important part of Scotland's makeup.
Mr Spink said it was important to recognise the challenges facing Arbroath, and other Angus burghs, but he says the perception of Arbroath is overly pessimistic.
"I am surprised at some of the conclusions reached by Cliff Hague on his brief visit to Arbroath," he said. "I fear this is yet another cup half full, half empty scenario with emphasis on the half empty. My vision of and for Arbroath differs somewhat.
"Arbroath is still officially a 'large' burgh and over 23,000 inhabitants represent more than a quarter of the population of Angus.
"The Arbroath I was brought up in more than 70 years ago was a thriving tourist attraction and family holiday centre for many from the west of Scotland.
"The town's economic strength lay in engineering, textiles and fishing, all of which were to be decimated over the years leaving Arbroath to suffer the consequences."
Mr Spink added: "As with many 'consultants', Mr Hague in his report points out the already known problems, without giving due weight to the green shoots of recovery we are so anxious to see and working so hard to produce.
"From one of the highest levels of unemployment in the country, Arbroath is now less than the national average," he said.
"The marina has full occupancy of its 53 annual berths, a waiting list of 45 and the six visitor berths welcome hundreds of craft each year.
"The harbour has a healthy commercial sector engaged in shellfish activities and a number of pleasure boats."
He continued: "The lack of further education claimed by Mr Hague does great disservice to Angus College, whose student numbers are well over 10,000.
"We need no reminding that the country is in economic crisis and a lot of pain is yet to come. However, stay-at-home holidays result from such economic depression with increasing visitor numbers near to home and, if we can attract them, they will spend money.
"Our own aim should be for a 'golden mile' from the harbour to the abbey, with shops, restaurants, souvenir shops, craft shops etc of a quality that will make Arbroath the magnet for visitors that it once was."