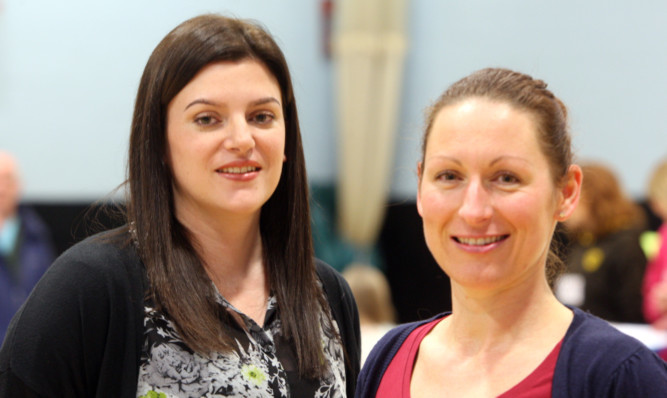 Two Arbroath mums have launched an ambitious campaign to bring an athletics arena to Angus, which could cost more than £1 million.
Angus is one of only two local authorities in Scotland which does not have an all-weather athletic track and Vicky Graham and Cherise Whamond are determined to change this.
They are both parents of children who attend Arbroath District Athletics Club (ADAC) and said they were shocked when they saw the high standard of facilities at clubs in neighbouring counties compared to what is available in Angus.
The club has looked into getting an outdoor track over several years, but Vicky and Cherise are determined to finally make it happen. An open meeting about the plans will be held tonight.
Vicky said: "When we visited other areas like Perth, Dundee and Aberdeen we saw that they all had a proper running track that could be used in all weathers.
"ADAC only have a grass track and this means that every time the grass is wet training has to get cancelled to ensure the health and safety of the athletes.
"With Scottish weather the way it is training getting cancelled can be a regular occurrence.
"It also means that high jump can just be practised on grass in good weather. Training is very limited in the winter months."
Hopes for an athletics arena have been discussed by the club for the past two years but the ladies hope they can push the plans forward.
After seeking help from Arbroath councillor David Fairweather they recently held a meeting with councillors and council representatives and have agreed to form a steering group.
A site within the grounds at Arbroath High School has previously been determined as the most suitable place for the facility.
"The site has sufficient space to accommodate the footprint of an all-weather track and field facility," said Cherise.
"The more we looked into the prospect of a new arena, the more we realised how an arena could not just benefit the current athletes attending ADAC but others.
"There is currently no opportunity for individuals who use wheelchairs to take part in athletics and an arena could also provide a safe environment for other sports clubs to train.
"An arena is something that could be used by schools and other athletics clubs."
They estimate that the arena would cost in excess of £1 million and are looking into financing.
The group will apply to SportScotland who could provide up to 50% of the funds required.
An open meeting for people who would like to lend their support or learn more about the project will be held at the Portcullis Bar function suite in Conon Terrace, Arbroath, tonight at 7pm.