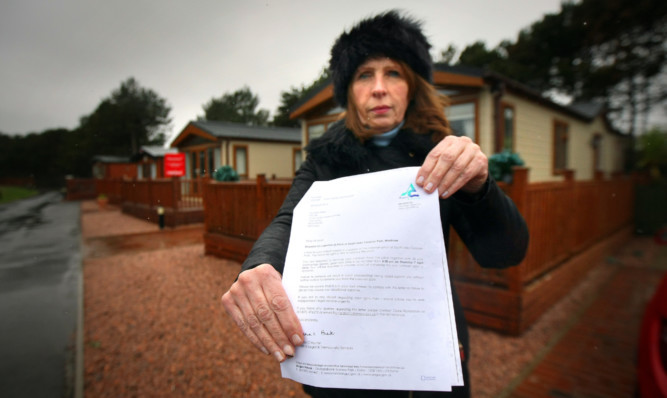 Long-term residents at an Angus holiday park are being evicted from their treasured homes-from-home.
They were given two weeks notice to leave as the council got South Links in Montrose ready to reopen for touring caravans at the weekend.
The popular park is for holidays only and not year-round residence, but a group of 20 static home owners have stayed put with nowhere else to go.
They have now been told to pack up and leave by April 7 unless they can provide evidence that South Links is not their primary residence.
The council admitted it has been a "challenging and difficult process" but said it is bound by legislation.
However, the move which will affect elderly people, families and children has been branded as "bully-boy tactics" by one resident.
The operator of South Links Caravan Park in Montrose went into administration last year and the park passed back to the local authority's stewardship.
It is understood some residents are so concerned they have visited council Access offices to ask if they could be accommodated as homeless when the notices come into force on April 7.
The local authority said it worked "extremely hard" to help owners who have been unable to leave.
Mary Donachie has been staying at the site with her daughter, her terminally ill father and her mother.
Mrs Donachie accused the council of "bully-boy tactics" and said they were being treated "as if we are Travellers".
She said: "There are people here who are elderly, disabled or with children who have been told to get out by 4pm on the 7th of April.
"It's absolutely disgraceful the way the council have been treating us."
An Angus Council spokesman said the local authority now welcomes seasonal and touring caravans on to the site and hopes for a "successful" season, but the park has never been a residential site.
He added: "To comply with relevant legislation and to protect Angus Council and the park, we have worked with caravan owners to ascertain evidence about their primary residence.
"This is consistent with the approach we have taken at other sites in Angus.
"It has been necessary for us to serve 20 eviction notices to date in relation to caravan owners who were unable to prove they had a primary residence elsewhere."